Location:

1118 S. Braddock Ave., Regent Square. 412-241-4666


Hours:

Mon.-Wed. 11 a.m.-10 p.m.; Thu.-Sat. 11 a.m.-11 p.m.; Sun 11 a.m.-9 p.m.


Prices:

Starters $3-10; Sandwiches and dogs $3-8; pizza $5-11


Fare:

Hot dogs, pizza and pub grub


Atmosphere:

Friendly neighborhood beer cellar


Liquor

: Beer, some wine


Smoking:

Designated sections


What's not to like about downtown Regent Square? With banks and bakeries, dog grooming and dry cleaning, it's one sterling block of neighborhood convenience and conviviality. Oh, and let's not forget the hot dogs and beer. Mmm ... hot dogs and beer.

Where were we? Oh yes, D's Six Pax & Dogz in Regent Square, proud purveyor of some of Pittsburgh's best frankfurters and plenty of wheat soda to wash 'em down. When D's recently expanded into the space formerly occupied by a gun shop, Regent Square got less convenient for all your artillery needs, but it's a trade-off we were willing to make. D's menu expanded with the space, and with more on tap than just the basics, we wondered: D's got bigger, but did it get better?

At first glance, there's nothing on the new D's menu to distinguish it from countless other Pittsburgh watering holes; not on second glance, either. (In between glances, we were mesmerized by the décor, a psychotropic mix of tree limbs, microbrewer monk caricatures, and a Where's Waldo-esque mural of famous Pittsburghers.) But we were there for quality, not creativity, and D's delivered.

We started with pub fries, crunchy French fries topped with cheese and big bits of crispy bacon. With toppings like this, the fries needed only to be vehicles, but these were truly exceptional in their own right, fluffier and more substantial than mere shoestrings, but without any of the sogginess that besets most bar fries, even when loaded with gooey melted cheese.

We also called for a classic wiener with kraut. D's big, beefy dogs are well seasoned with noticeable garlic notes, and the sauerkraut is a cut above, with a mild but distinct cabbage flavor and tender texture. As always, we loved the Chicago-style, poppy-seed bun.

The roll for Jason's chicken parmesan looked just as good, but the first bite revealed that its beauty was skin-deep. Instead of having a toasty crust, it was nearly as soft as its hot-dog-bun brother. Inside the bun, things were more satisfying, with chicken breast tenders retaining their crust even under a slather of hearty, slightly sweet tomato sauce. A generous topping of melty cheese made up for the doughy letdown.

The most impressive aspect of our meal, to our surprise, was the pizza. Various devices allow bars and other non-specialists to serve credible pies, but D's is the best pizza we've had outside a pizzeria; in fact, we could name lots of pizzerias that don't measure up. The crust was top-notch, perfectly balanced between chewy and crispy, substantial enough to hold up to the heavily topped creations promoted by the menu and flavorful enough to carry the plain pizza we tried. The sauce, presumably the same as on the sandwich, had a less sweet, more true-tomatoey taste here, and the blanket of cheeses created picture-perfect strings when a slice was lifted from its platter.

A calzone was a terrific variation on the theme, its flavor rounded by plenty of sweet, creamy ricotta within a perfect tender-crisp crust.

The verdict? The new, expanded D's is bigger and better, and you don't have to love hot dogs to love it. You don't even have to love beer. You just have to love salty, cheesy, fatty comfort food, because D's raises it to an art.

JR: 3.5 stars

AB: 3.5 stars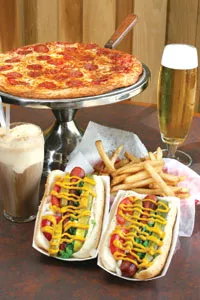 Pizza and hot dogs with all the fixin's take center stage at D's.