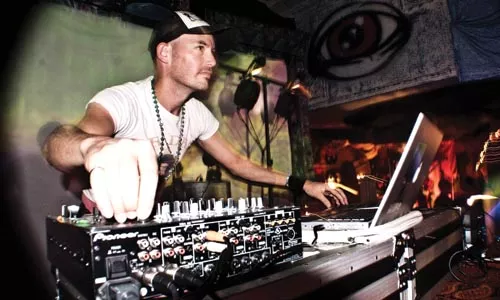 Monsters of Bass isn't some unholy union of Les Claypool and a fishing tournament, but the tour does unite some fairly disparate elements in the name of low frequencies. The three performers, --MartyParty, FreQ Nasty and Opiuo -- represent different parts of the world, as well as different aesthetics and technical approaches.
Between them, "people get all the flavors of bass music they could ever hope for," says MartyParty, via phone from the road. "They get melodic, sexy bass music; they get brostep; they get dubstep; they get drumstep.; they get big bass."
If half of those genre names leave you scratching your head, FreQ Nasty admits that often, several proposed names get bandied about for awhile before one really sticks. And some, like the "futurestep" he espouses, represent more of an ethos than a style. "It's kind of just a more free-form approach," FreQ says, "looking to create a new sound rather than be stuck in one particular genre or push one particular genre forward."
Born in Fiji and raised in new Zealand, FreQ has explored plenty of new territory since the mid-1990s, when he made a name for himself as a DJ in London's dance-music scenes. He's remixed and collaborated with artists including Fatboy Slim, KRS One and Santogold. Lately, he says he's most interested in combining the heaviness and depth of English dance-music production with glitchy hip-hop elements from the West Coast, where he now lives.
As tastes change, the tools of the trade have also evolved over the years, changing the technical demands of a tour like Monsters of Bass.
"Back in the days of vinyl, if you went on a two-month world tour, you'd have a box full of 80 or 100 songs, maybe 50 or 70 pieces of vinyl," FreQ recalls, "and it's what you're playing the whole time." CD turntables allowed him to carry much more music, but that wasn't always a good thing.
"I reckon after about 50 or 60 CDs," he says, "you don't get mixes that you want to get, because you're busy looking for the tunes instead of playing the damn things."
His current system uses Serato CDJs decks to physically manipulate files from his computer hard drive; it keeps more music ready at hand, but retains some of the hands-on feel of vinyl. More importantly, it's flexible. "I could be picking up new tunes before every gig, adding new stuff to the set," he says. "I can do a whole different set if I want to, if I'm doing two sets in the same town."
While FreQ's tools seem far removed from the days of vinyl, he's the closest to a DJ on the Monsters of Bass tour.
"I play all my own music in my sets," says MartyParty. "I'm not a DJ, I make all the music I play, which is a big difference, same as [Opiuo].
"We're trying to get known and change the industry to accept that there's a big difference, but right at this moment, we're still put in the same bucket as DJs," he adds.
A native of South Africa, MartyParty worked in the software industry until 2005, when he needed a change. Learning the music production software Ableton Live, he began posting tracks online, at first every day. (In addition to his work as MartyParty, he's part of the group Panty Raid, which he describes as "much more sexy and for the ladies.")
MartyParty calls his style, created entirely using synthesizer software, "purple music," instrumentals that employ a quasi-classical development of themes and variations. He likes using the word "operatic" to describe it, yet he cannot sing; he uses instruments to create vocal-like melodies instead. "There's excitement, yet there's also melodrama and emotion," he says.
Like MartyParty, Opiuo is a producer, not a DJ, but the Australian's style is different -- more of a "bass-heavy, glitched-out party hip-hop vibe," says FreQ. And it's good that there's stylistic variety between these three, since they're really all Monsters of Bass is -- well, that and a killer sound system.
"It's pretty minimal," FreQ acknowledges. "It's more about really trying to make sure the sound systems are proper and get the focus on the bass on this tour, rather than the visuals.
"I'm going to play pretty much what I feel like playing at the time," he continues. "It's really just seeing where the energy level of the crowd is, and then bringing in new music they may not have heard, in a way that the energy makes them open to it.
"Obviously, I want people to enjoy it!" he adds. "But I'm not going to play stuff that they necessarily know -- they're going to have to work with me. I'm gonna work them hard, and they're gonna work me hard."
Monsters of Bass feat. FreQ Nasty, MartyParty and Opiuo. 9 p.m. Fri., March 11. Rex Theater, 1602 E. Carson St., South Side. 17 and over. $12. 412-381-6811 or www.rextheater.com