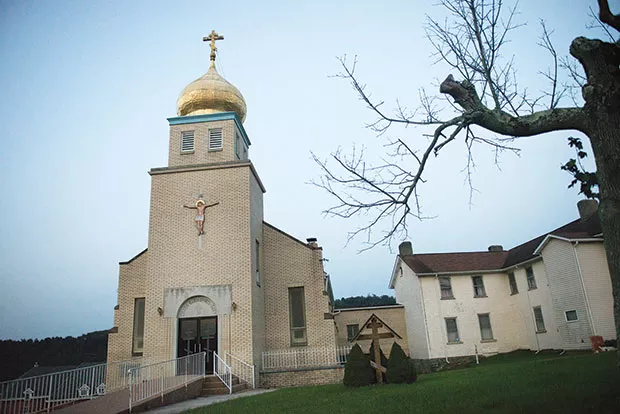 CP photo by Caroline Moore
California, Pa.'s new Roma immigrants can benefit the town, possibly by filling its recently vacated Orthodox Christian church.
Late this past winter, a new group of residents began moving into the small, former coal community of California, Pa. The Mon Valley town, home to about 6,000, gained dozens of new inhabitants, made up mostly of traditional families — father working a blue-collar job; mother cleaning, cooking and caring for young children.
These new residents hail from Europe and tend to honor their cultural traditions, which include craftsmanship, music, dance and entrepreneurship; they practice Orthodox Christianity. On paper, they resemble a good example of the kind of people a small town is looking for.
But the new residents have been met with resistance; their apparent similarities with small-town Pennsylvanians couldn't outweigh their differences.
These immigrants from Romania are part of an ethnic minority known as Roma, sometimes derogatively called "gypsies." Many don't speak English, and all are currently awaiting asylum hearings as part of a U.S. Immigrations and Customs Enforcement program called Alternative to Deportation. According to a recent Pittsburgh Post-Gazette article, the Roma claim they were persecuted in Romania, and moved to California because it's peaceful and affordable.
However, many in California say the newcomers have caused havoc. After a July borough meeting with hundreds of angry townspeople — hundreds more signed a petition to "end housing of illegal immigrants" — the conservative media went wild.
Tucker Carlson, host of Fox News' top-rated Tucker Carlson Tonight, inflamed rumors that the Roma were defecating in the streets and strewing trash across the town. Carlson also claimed the California Roma don't "seem interested at all in integrating," but his piece didn't reference any interviews with locals.
Despite the outrage from some conservatives, pro-immigrant conservatives believe there's good reason to embrace the Roma in California. Local Republican politicians have been mum on the issue, and some Mon Valley residents are torn, but others believe there is a friendly way forward.
Historically, the Roma have received hostility almost everywhere they have gone. The Roma and their descendants are located all throughout the world, but most live in Eastern Europe, where they have been for more than 1,000 years. In medieval Europe, the Roma were slaves. Historically, the Roma are a nomadic people, but in the 1700s many European nations removed their right to own wagons and horses and forced them to assimilate. During the Holocaust, the Nazi regime stripped citizenship from the Roma, and an estimated 250,000 to 500,000 were sent to concentration and death camps.
The Roma also haven't really been welcomed in the U.S. In the 1860s, during the debate over the 14th amendment to the U.S. Constitution, which granted birthright citizenship, Pennsylvania Republican U.S. Sen. Edgar Cowan objected to granting citizenship to "a Gypsy born in Pennsylvania." Cowan said immigrants like the Roma were invading the U.S., had no allegiance to the country, didn't pay taxes or serve in the military, and shouldn't be allowed to become citizens.
CP photo by Caroline Moore
A Revolutionary War and Civil War monument in Downtown California, Pa.
Linda Chavez, the chair of the Falls Church, Va.-based Center for Equal Opportunity, a conservative think tank with pro-immigration stances, says that Cowan's objection to the Roma echo the current sentiments of some immigration hardliners today.
Chavez says the Roma people's history is one reason small-town residents should welcome them. But she adds that embracing Roma immigrants should go beyond humanitarianism. Chavez, who served on the U.S. Commission on Civil Rights under President Ronald Reagan, says new immigrants can revive struggling small-town economies.
"They are going to be shopping in our stores, they are going to be paying taxes, they are going to be revitalizing an area," says Chavez. "It may be the Roma in California, Pa., but before them it was the Vietnamese in small towns in Texas, and Mexicans and Guatemalans moving into the small towns in the South."
In fact, many small towns across the U.S. have benefitted from an influx of immigrants. And some are in Republican strongholds, like Sioux Center, Iowa, and Greenport, N.Y., both of which have seen economic benefits thanks to immigrants. Hazleton, Pa. has also rebounded after decades of decline thanks to an influx of Latino immigrants from the Dominican Republic. All three of these towns are represented in Congress by immigration hardliners, including Rep. Lou Barletta (R-Hazleton), who is running for U.S. Senate.
Chavez says it's hypocritical for many Republicans to adopt anti-immigrant stances, because Republicans tend to be staunch supporters of free-market capitalism. To bar newcomers, she says, is to advocate for less growth.
"Conservatives have generally understood that growth is positive," says Chavez. "You can achieve economic growth two ways: by increasing productivity or by population growth. It's best if you can have both. I am always frustrated by my fellow conservatives who seem to understand economics when it suits them, but when you have newcomers, then suddenly all of those ideas are put aside. They revert to tribalism."
Politically, California, Pa. is represented primarily by Republicans. The town isn't exactly a bastion of conservative politics, but its support for Republicans is growing. In 2012, President Barack Obama carried the town by 17 points, and incumbent U.S Rep. Bill Shuster (R-Hollidaysburg) lost California by 23 points, although Shuster won the seat anyway. In 2016, however, Democratic presidential nominee Hillary Clinton won California by only 4 points, and Shuster actually won the town by a point, gaining 24 percentage points there in just four years.
In the past, Shuster, State Sen. Camera Bartolotta (R-Monongahela), and other California representatives have espoused anti-immigrant and anti-refugee views. In a 2015 Facebook post, Bartolotta wrote that "many" Syrian refugees are terrorists and that the U.S. must close its borders.
Pittsburgh City Paper reached out to all of California's representatives, including Republican U.S. Sen. Pat Toomey, for comment on the new Roma community, but none responded.
Regardless of politics, the Roma's culture also appears to align with traditional small-town values. Carnegie Mellon history professor Emanuela Grama, a Romanian native, recently spent time with about 15 Roma in California, Pa., while acting as a translator for Post-Gazette reporters. She says that the California Roma were extremely polite, and that they have similar values to other Roma from around the world. But she emphasizes that her observations reflect her personal opinion. According to Grama, Roma from Romania traditionally work as craftsmen of precious metals like gold, and are known to travel to sell their goods.
"It's a traditional society; they are very proud Roma," says Grama. "They seem to value community and family most."
(CP attempted through multiple sources to interview the Roma, but didn't receive any response.)
Grama adds that some Roma were upset about being portrayed, in social media, as poor and looking for handouts. "These are not people who are poor," says Grama. "Many people were telling me they would be willing to do any kind of work, painting and construction, blue-collar type of work. They are proud, they have a very clearly defined dignity, and that is what they felt was taken away from them."

Chavez says conservatives who fail to defend immigrants like the Roma are disregarding conservative values. "Even illegal immigrants are more likely to live in households with children, to be comprised of a mother and a father, to have a father who works full time," says Chavez. "All of the things us conservatives are supposed to believe in."
Chavez also believes churches can play a role in welcoming immigrants to small towns. But area churches are sending some mixed messages.
Rev. Samuel Smolcic, of Holy Resurrection Orthodox Church in nearby Belle Vernon, says he understands that it can take time for any immigrants to assimilate. Smolcic says he doesn't speak Romanian, but the Roma "are welcome to my parish, everyone is welcome."
But Rev. Gregory Peterson, of Holy Trinity Church, an Orthodox Christian church in Charleroi, just upriver from California, says he's "not interested in illegal immigrants." When CP reminded him that the Roma were here legally, he seemed skeptical, but said "We are a small community and we don't have the means to take care of these immigrants. If a gypsy comes here, they are welcome, but we are not looking into that right now. They are not interested in church; they are interested in material things."
But longtime California resident Rosemary Capanna says that, despite the initial objections of some, relations with the Roma immigrants are already improving. Capanna, who is running for California mayor as a Democrat, says the reaction to the Roma shouldn't be classified as hysteria, and that a lack of communication between residents and elected officials worsened the situation.
She says many townspeople came to the July borough meeting upset because they witnessed some Roma speeding while driving on town streets. Capanna says that once the police chief announced that he had been issuing citations and working toward improving public safety, many residents had calmed down. However, Capanna realizes that some residents might have reacted too strongly initially. According to the Post-Gazette, some townspeople were upset that the Roma hadn't yet assimilated, even though they had been in town for only a few months.
"Our reaction to their presence is something we are judged by," says Capanna. "How long can you hold onto anger and outrage? But in the heat of the moment, people had legitimate concerns."
Capanna says people in town don't really see themselves as conservative or liberal, and says that as long as the Roma are learning and obeying the laws they are welcome. She says local businesses like the beer distributor and convenience stores have already seen an uptick in sales thanks to the Roma.
"We have a downtown area that we are looking to improve, like most Mon Valley towns," says Capanna. "Improved commerce is good."
Capanna says the local magazine Pennsylvania Bridges is planning events to bring the Roma and native-born residents together. She believes things will only improve.
"California really does well by its residents," says Capanna. "I have faith they will do that when there is a need. I certainly feel there are enough people here who want to welcome [the Roma], and learn about their culture."