Cathartic journeys of self-examination and self-discovery are common in dance. In her first public dance production since returning to the area, Lindsay Fisher peels back the curtain on her public persona to reveal more of her personal life in
Over Exposed
, on Thu., April 6, at the New Hazlett Theater.
Part of the theater's CSA Performance Series, the 75-minute, intermissionless dance-theater work is described by Fisher as "a collection of the doubts, insecurities, everyday joys and small victories that make up one woman's life." She says she was interested in bringing out into the open parts of her personal life she usually hides from view — things she is embarrassed by and things that have emotionally rocked her world.
"It's terrifying but at the same time liberating to put elements of me out there I don't normally share," says Fisher.
Set to a mix of original music by composers Jason Palamara and Andy Hasenpflug, as well as by Arvo Pärt and German alt rockers Milky Chance, the work also uses pre-recorded and live spoken text to introduce and interconnect each of its five sections about aging, gender roles, memory and loss.
Currently on the dance faculty at Slippery Rock University, Fisher, a Butler native, studied dance and choreography at the University of North Carolina School of the Arts and the University of Iowa, and worked for a time as a freelance dancer based in New York City.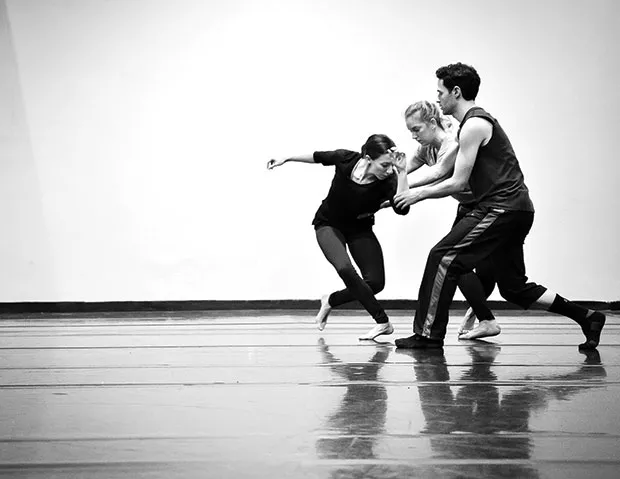 Photo courtesy of Ben Viatori
Lindsay Fisher, Montana Michniak and Matt Pardo rehearse Over Exposed
Her time in New York, and the painful breakup of her first marriage, inspired a section of
Over Exposed
entitled "View From Inside." Fisher recalls a feeling of emotional estrangement living with her then-husband before they separated, and the odd feeling of being alone in a city of millions.
Joining Fisher on stage will be a recent Point Park grad, dancer Montana Michniak, and dancer/choreographer Matt Pardo, co-founder of Pittsburgh's newest producing organization, The Blanket. Additionally, 22 student dancers from Slippery Rock University will perform in the sections titled "Memoria," about clinging to memories, and "Reading the Red," a fun, prop-heavy piece.
Fisher admits her travails and triumphs in
Over Exposed
are like those of many. The hope is that the show will not only entertain, but prove therapeutic to those who might be grappling with similar personal issues.