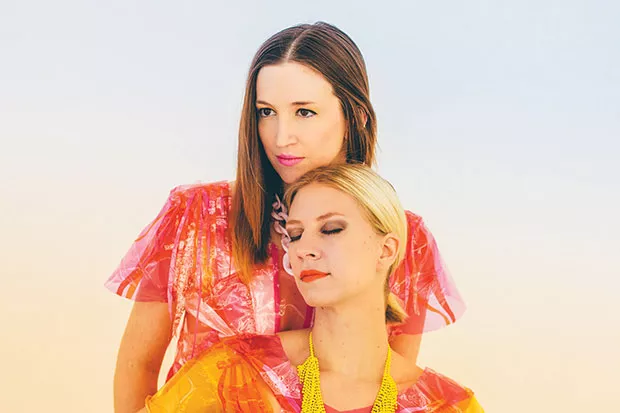 Photo courtesy of Scotify
Seasaw
[FOLK POP] + FRI., MARCH 10
Seasaw
may be just two people, but the duo of multi-instrumentalists Eve Wilczewski and Meg Golz amp up its sound with intricate harmonies and a careful weaving of folk-laden melodies to create a warm indie-pop vibe. The lyrics are sharp, and meld heartfelt, witty stories into the acoustic guitar, banjo, synths and strings that provide the musical foundation. Getting in on the fun at
Cattivo
is the upbeat alternative folk of
Robin Vote
, as well as the country rock 'n' roll of
Franny Moon
.
Side Eye
draws the rock attitude of each act and swirls it into a dreamy surf-rock sound that manages to blend the 'tude of Joan Jett with the pop delight of the Beach Boys.
Meg Fair 7 p.m. 146 44th St., Lawrenceville. $6. 412-687-2157 or www.cattivopgh.com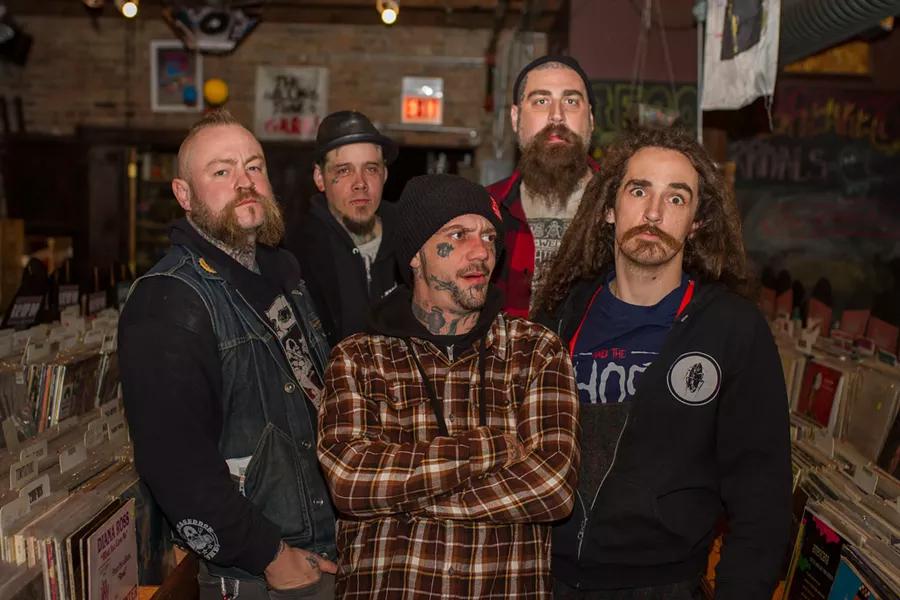 Photo courtesy of Rob Shultz
The Goddamn Gallows

[HOBOCORE] + FRI., MARCH 10
"Y'all Motherfuckers Need Jesus." No, that's not an observation about our fine readers (although it may certainly hold true for some of you). It's a shredding, catchy-as-fuck earworm of a song from
The Goddamn Gallows
. The band is mostly metal and hardcore, but when your instrumentation includes an upright bass, a banjo and a dude who shreds on both an accordion and a washboard, the sound that comes out isn't traditional metal. The group spent four straight years living in a vehicle, and touring the country perfecting its game (thus the Hobocore label). The boys roll into Cattivo tonight to bring Jesus to Y'all Motherfuckers, with
Crooked Cobras
and
The Hills & the Rivers
.
Charlie Deitch 8 p.m. 146 44th St., Lawrenceville. $10-12. 412-687-2157 or www.cattivopgh.com
[BRUTAL] + SAT., MARCH 11
Forget black-metal yoga. Tonight, at
Black Forge Coffee
, you can get your power-violence aerobics on with some of the Rust Belt's finest. From the dear, unsuspecting town of Ashtabula, Ohio, arrives
Homewrecker
, a wickedly brutal metal band who performs every gig like it's tearing up a beer-soaked basement full of rowdy punks. Its menacing sound harkens back to the dramatic, squealing-metal goodness of the '90s, but the breakdowns are dirtier and the bass tone is dank. Massachusetts'
High Command
kicks in on the fun with a punk-meets-black-metal bite. Steel City's heavy scene represents with the death-metal savants of
Taphos Nomos
and
Legendry
, a heavy-metal band that rocks a retro sound.
MF 7:30 p.m. 1206 Arlington Ave., Allentown. $10. All ages. 412-291-8994
Photo courtesy of Andrew Paynter
Tortoise
[POST ROCK] + MON., MARCH 13
Tortoise's
latest release,
The Catastrophist
— its first in seven years — is also its first to use prominent vocals (even tapping Yo La Tengo's Georgia Hubley for a guest spot on this album's "Yonder Blue"). The Chicago-bred five-piece is a pioneering force in instrumental rock, one of the firsts to incorporate heavy jazz and electronic-synth elements into something cohesive and accessible. Tonight, Tortoise is joined by notable locals
IT IT
at
Mr. Smalls
.
Alona Williams 8 p.m. 400 Lincoln Ave., Millvale. $16. 412-821-4447 or www.mrsmalls.com