[POST-METAL] + FRI., APRIL 21
Post-metal is a distinctly epic genre, and the larger-than-life sound it evokes will be on full display with
Junius
and
InAeona
tonight at
Black Forge Coffee
. Junius' latest album,
Eternal Rituals for the Accretion of Light
, is a beautiful sonic adventure. The album was inspired by spiritual author and leader Elisabeth Haich's autobiography
Initiation
, and reflects upon reincarnation, love and spirituality — a subtle sense of some divine presence underlie the tracks. InAeona's dramatic flair and wailing vocals sit on an industrial musical bed. As the band screams itself into existence and clings to life at every sonic turn, there is something beautifully desperate at the heart of its music. Pittsburgh's haunting darkwave duo
Bring Her
rounds it all out.
Meg Fair 7:30 p.m. 1206 Arlington Ave., Allentown. $10. All ages. 412-291-8994
[INDIE ROCK] + FRI., APRIL 21
From his time with the legendary Guided By Voices to lesser known side-projects like eyesinweasel and Airport 5, to his latest solo release
The Universe and Me
,
Tobin Sprout
has always been a reliable source for smart, unfancy lo-fi songwriting. But if you're expecting all fuzz and feedback, check out the new album's title track for a surprisingly passive piano-driven pop song. Not only is Sprout a talented musician, he is also a children's-book author and visual artist. Come check out whatever else he can do tonight at
Brillobox
. I'm sure he'll keep surprising us.
Alona Williams 9 p.m. 4104 Penn Ave., Bloomfield. $14. 21-and-over. 412-692-4900 or www.brillobox.com
[FREAK FOLK] + MON., APRIL 24
Tonight, the
Glitter Box Theater
hosts artists ranging from avant-garde cello and piano to bizarro folk.
On the Water
creates folk that mesmerizes in arrangement, and completely consumes your attention with delicate harp, cello, upright bass and acoustic guitar. With a powerful control of dynamics, On the Water lulls you into peace before yanking you back with a sharp forte shift. The spooky street-folk locals
Cousin Boneless
bring a distinctly dramatic flair to playing music you'd hear bursting out of a divey, smoke-filled bar where everyone drinks whiskey straight and could hex you in a second.
Serpentine
brings its sigil-esque rock and emotive exorcism to the gig, while Valerie Kuehne and Dubravka Bencic provide the avant-garde piano and cello sounds.
MF 8 p.m. 460 Melwood Ave., Oakland. $5-10. All ages. www.theglitterboxtheater.com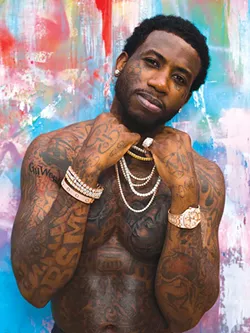 [HIP HOP] + WED., APRIL 26
Let's all give a round of applause to the guy who made it all worth it in 2016! Seeing
Gucci Mane
return — after more than two years in prison — was nothing short of a blessing. Mr. Guwop has been home for almost a year now, and has collaborated with Young Thug, Kodak, Quavo, Kanye, Travis Scott, Drake and many more. I know we've all been missing the East Atlanta Santa. He'll be sharing his gifts, along with
Dreezy
and
Playboi Carti
, tonight at
Stage AE
.
AW 6:30 p.m. 400 North Shore Drive, North Side. $42. 412-299-5483 or www.promowestlive.com