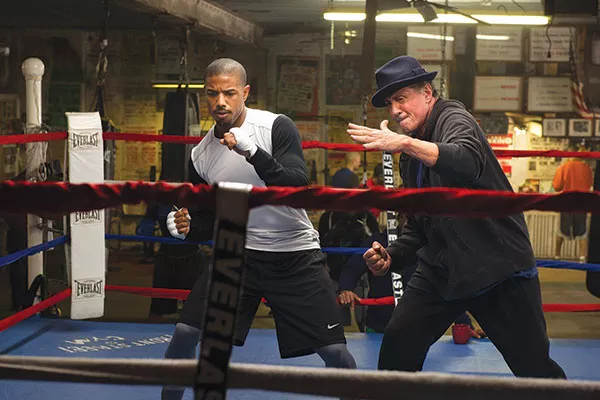 Adonis Creed (Michael B. Jordan) and Rocky Balboa (Sylvester Stallone) are in sync.
Look, Creed isn't the best movie out this holiday week, but it may be the best bargain.
The boxing pic, which finds Rocky Balboa coming out of retirement to train the son of his opponent-turned-buddy Apollo Creed, is six movies in one. And in spite of its problems, Ryan Coogler's film is a bona fide crowd-pleaser. With heart. With laughs. With tears. With sports. With kids popping wheelies on motorbikes. (I didn't understand this scene, but it was cool, I guess.) Let's break down what a viewer gets:
A Plucky Upstart Takes on the Champ. Pure formula — you'll call out the scenes before they happen. Like slipping on a comfy old sweater. Self-trained boxer Adonis Creed (Michael B. Jordan) dumps his day job in finance and moves to the mean streets of Philly. Gets crusty trainer, former champ Balboa (Sylvester Stallone), to believe in him. Training ensues; title match is booked. Jordan is better than this hackneyed material, and he presumably spent the spare time he had working out and not wearing shirts. (There was a lot of appreciative sighing from the audience.)
Fight Night. There are two major fight scenes. One is filmed with a lot of impressive long takes, showing off the fight choreography; the other is best described as a non-stop pummeling, with a lot of edits.
A Romance. Not worth the ticket price, but Creed's adorable when he's falling for Bianca (Tess Thompson), a feisty songwriter.
Rocky 7. This is the latest chapter in the story we began way back in 1976. Just as Skyfall mined James Bond's history with winks and homages to the franchise, so too does Creed honor the past. We get snippets of the iconic theme music, a turtle and another trip up the steps of the Philadelphia Art Museum.
The Squared Circle of Life. Another reward for the Rocky completists is how Creed mirrors the original (and still best) film. The film finds the same of the same small-scale bittersweetness of life outside the ring. But now, the glove has passed: Balboa is the creaky old guy who takes the hopeful kid under his wing. Creed could be the perfect conclusion to the Rocky franchise. (Creed 2 could absolutely happen, with or without Balboa. And so the story begins anew.)
A Mutt-and-Jeff Buddy Movie. This is the most enjoyable part of Creed, the loose working partnership between Balboa and Creed that develops into a meaningful relationship. Like the boxing subplot, the trajectory is pure hokum — from lame jokes about being old to the predictably resolved break-up they have. But the effervescent Jordan and the slyly deadpan Stallone bring their A-game. They hold each other up (awww) — and they hold up this movie.