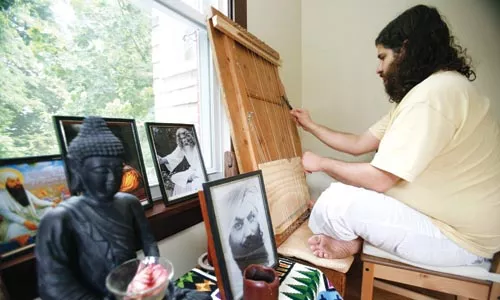 Crowned Eternal: Tamburo incorporates this homemade instrument -- and shrine -- into his kundalini yoga practice
I first began my guitar experiments sometime during the fall of 1995 [when I] started attending Edinboro University of Pennsylvania. It was there I first stumbled upon a number of books -- Experimental Music: Cage and Beyond, Conversations With Cage, Sensation on a Tone, Movie Journal, Cosmic Music, Pierre Boulez's biography -- that changed my life. I had already lost interest in my classes, so I sat in my room for 10 hours a day with a guitar I had borrowed from a friend and a 4-track, trying to understand all of the new concepts I was reading about in these books. My ears were open now to repetition, chance operations, overtones and prepared instruments.
One day while putting my equipment away after an exhausting day of recording, I set my guitar up against the wall. This was before I knew that you had to cut the ends off of strings after you put them on. One of the strings somehow went into a plug socket. The lights dimmed and I think I actually heard a spark. I turned around to see and hear all of the strings turning orange and detuning as they burned away. Fire spit from the pickups and dripped from the nut, setting the magazines and books I had on the floor into a mighty blaze. I just stood there, in a trance, mesmerized by what I was seeing. I had spent all day working on chance operations and now this. It was the most beautiful thing I could imagine. I am not sure if I went temporarily insane or was temporarily enlightened, but in the minute or so that I stood there listening and watching [the] instrument and my room burn, I was completely changed. Somehow I knew anything was possible. Every sound I could come up with was valid. I snapped out of my trance and put the fire out and headed to the woods for some meditation. I dropped out of school and returned to New Kensington, immediately contacting my dear friend Ken Camden. We had always been close to each other and both shared a love for discovery that has guided each of us in our lives. The only problem I had was that I no longer had a guitar.

-- From Mike Tamburo's ongoing collection of stories, Without Beginning Middle or End, Volume One