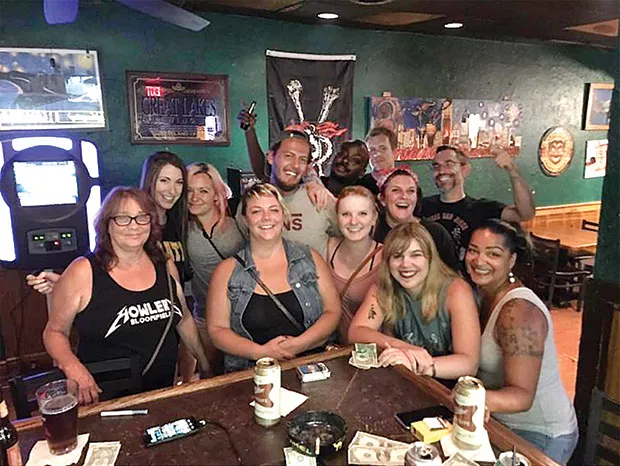 Mary Jo Coll, far left, gathers with Howlers regulars.
"Find yourself in a heap of debt / Mama Jo give you a cigarette / Make sure you're fed when the night is done / Good old Jo's a Ma to everyone," sing The Harlan Twins on the 2012 song "Mama Jo."
The local rock group recorded the song as a tribute to Mary Jo Coll, the longtime booking manager for Howlers and Hambone's — two anchors of Pittsburgh's vibrant music scene. In Coll's own words, the song made her "sob like a baby the first time they played it."
Coll certainly doesn't mince words. "I'm not really — what's the word I'm looking for — subtle," she says between puffs on her e-cigarette. "I tend to just tell people to get out of my face."
Beneath her gruff, no-nonsense personality lies a deep passion for the bands she books each week. For more than 12 years, Coll has been helping the musicians of Pittsburgh find an audience. Many of them affectionately call her by the same name as the Harlan Twins song — Mama Jo.
"Look at you, Gabe!" Coll exclaims as Gabe Cetra, lead singer of oldies band Photo Joe and the Negatives, approaches her table at the Howlers bar. "What did you do, dress in layers so you have more to take off?"
"Yeah, but I'm gonna keep it on tonight," Cetra replies, after giving Coll a hug.
Coll, a native of Pittsburgh's Morningside neighborhood, has technically raised seven children, but when you count the local musicians she's worked with over the years, that number increases.
"They're all my kids," Coll says. "I just kind of refer to myself as the local bar mom. I do what I can and help when I can. I give you a stage if that's what you need, and if the show fails, we tweak it, figure out what went wrong, and try again."
Coll has had her finger on the pulse of Pittsburgh's music scene since the 1970s and '80s, when she was a regular at The Decade, the former Oakland rock club. She fondly remembers seeing U2 play there the year before the band released its landmark album The Joshua Tree. But even though she comes from the classic-rock era, Coll loves all genres.
"People are always trying to pigeonhole you into having a favorite band and so on. I don't have a favorite because I like it all, and I listen to it all," she says. "But I've always been able to tell which ones have skill and the potential to move forward."
Her job, as she eloquently puts it, is to "get asses in the seats." But that doesn't stop her from helping amateur artists develop.
"I'm kind of willing to take a chance on anyone anytime," she says nonchalantly. "There's some kids in the local scene now that started playing Sunday nights [at Howlers] when they were 17 or 18 years old, and I've watched them grow. When I find a band that's really good, I just boot them in the ass relentlessly until they get out there."