Sleuthing siblings: Cris Lankenau and Trieste Kelly Dunn
This indie film is something of a hybrid: Cold Weather has elements of a wry mumblecore comedy married to mini-mystery while wrapped in a larger meditation about the unsung strengths of relationships.
For Doug (Cris Lankenau), a college drop-out who had returned to Portland to share an apartment with his sister, Gail (Trieste Kelly Dunn), life is set on aimless. He gets a job at an ice factory, where he befriends Carlos (Raul Castillo). When Doug's old girlfriend visits, the four hang out, slowly building strands of connection. But when the ex-girlfriend goes missing, Doug, Gail and Carlos decide to play detective.
If the "mystery" doesn't make much sense, Doug's reaction does. It invigorates him, and lets him put his knowledge of his hometown to use. Here, director Aaron Katz excels in depicting the ordinary parts of Portland, transformed through Doug's quest into an exciting playground of intrigue. The real prize, though, is watching Doug re-bond with his sister.
Pittsburgh doesn't just share a cloudy climate with Portland: Two of Cold Weather's creators have ties to the 'Burgh. Brendan McFadden, 30, grew up here and studied at Pittsburgh Filmmakers, while Aaron Katz, 29, formerly of Portland, now lives in Wilkinsburg. On the phone from Los Angeles, they shared their thoughts on city-centric movies.
Aaron Katz: I really like films that are set somewhere specifically. Any degree of specificity makes the film more exciting and feel more three-dimensional.
Brendan McFadden: Even if it's a city you don't know, one of the cool things about a movie that's really set in a place is getting to know that place.
Katz: With Cold Weather, I wanted to capture the Portland people live in and know. Portland has changed a lot in the last 10 years; a lot of young people have moved there. [But] these are people who weren't necessarily seeking out every new thing, because they were comfortable in the city they were born in.
McFadden: It's important to us when we make a movie to have [the film] set there. It's part of the truth of living in that city.
Both are working on new films set in Pittsburgh, including a time-travel comedy.
Starts Fri., Feb. 18. Melwood. Director Aaron Katz and co-screenwriter/producer Brendan McFadden will present the film at 7:30 p.m., Fri., Feb. 18. The screening will be followed by a Q&A session as well as reception with food and drink. Tickets for opening night are $10. There will also be a Q&A at 8 p.m., Sat., Feb. 19 screening.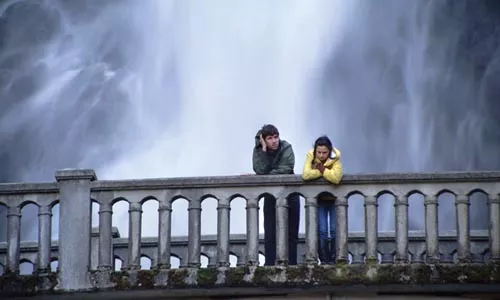 It's damp in Cold Weather.