Orson Welles' masterpiece Chimes at Midnight first screened in 1966, at Cannes; an astonishing half-century later, its long-delayed U.S. theatrical release is a cinematic event of the first order.
Welles was a giant of 20th-century film. But you don't just owe it to him to see the newly restored Chimes on the big screen; you owe it to yourself. Like Citizen Kane, released 25 years earlier, Chimes at Midnight is a trove of cinematic riches — apparently Welles' own favorite among his films, and hailed by some as the finest Shakespeare on screen. It's also arguably the most poignant film of Welles' remarkable career.
Welles' script collates five Shakespeare plays (largely Henry IV, parts one and two) to highlight Falstaff, the aging, dissolute and famously rotund aristocrat. The story includes a 15th-century British war of succession, but turns on Falstaff's relationship with young Prince Hal, the future king who eventually casts off his old friend.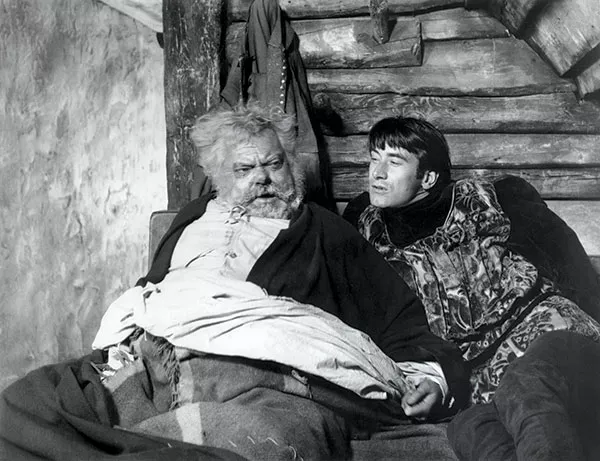 Orson Welles as Falstaff, and Keith Baxter as Prince Hal
Welles plays Falstaff, a character that had fascinated him since his youth. It's easy to imagine this expatriate and Hollywood exile — Chimes was a Spanish-Swiss production, shot in Spain on a shoestring budget — fancying himself the target of Shakespearean japes directed Falstaffward. "You live in great infamy," goes one. "Your means are very slender and your waist is great." "Were it not for laughing I should pity him," goes another.
Falstaff is often considered comic relief, but Welles found him tragic as well as Rabelaisian. It's a great performance, deeply human behind the lurching and bellowing, and the strong cast includes Keith Baxter, as Hal; John Gielgud, as Henry IV; and Jeanne Moreau as Doll Tearsheet.
The action is full of humor, with antic physical comedy alongside Shakespeare's verbal wit. But perhaps Chimes' greatest glory is Welles' masterful style. The characteristic deep-focus black-and-white cinematography is gorgeous, whether in the wonderfully grotty Boar's Head Tavern or Henry IV's austere, light-stabbed throne room. The scenes are long and vibrant, the editing musically precise. The film's visual centerpiece is the Battle of Shrewsbury, which Welles renders brilliantly with a darting, documentary-style camera, close and harrowing — scant glory, just a brutal slog in the mud.
In 1966, after Chimes premiered at Cannes, a few negative reviews prevented its wide release in the U.S; decades of rights disputes kept it off home video and out of repertory theaters. In 1966, Welles turned 51; though he's live another two decades, he'd never complete another narrative theatrical feature.