Roots music seems on the rise these days, and perhaps rightly so. As recording sales dwindle, live performance has enjoyed renewed importance, and someone who can burn down a small club with a banjo may be more viable in some ways than a musician whose creations exist almost solely in the studio. As a result, singer-songwriters with a rootsy cast aren't particularly rare now, and it can be tough to stand out from the pack.
In the case of Carrie Rodriguez, a big part of her distinctive sound comes from a deceptively small instrument: the "mandobird," a solid-body electric mandolin with a body shape similar to a Gibson Firebird electric guitar. Its chiming, droning sound gives Rodriguez' music a haunting, resonant quality, even when combined with searing guitars and a heavy backbeat.
But it's not all slick ballads and rockers. At the Berklee School of Music, Rodriguez learned to translate her classical violin skills into fiddle chops, often paired with the twangy side of her voice, in songs like "I Don't Want to Play House Anymore" and "Blackberry Blossom."
After releasing her debut, Seven Angels on a Bicycle, in 2006, Rodriguez was invited to tour with Lucinda Williams. Rodriguez' third studio album is expected in the spring. Rodriguez comes through town Feb. 2 as part of a tour presented by the syndicated radio show Acoustic Café, with singer-songwriter Erin McKeown and innovative cellist Ben Sollee.
An Acoustic Café Evening tour feat. Carrie Rodriguez, Ben Sollee and Erin McKeown. 8 p.m. Tue., Feb. 2 (doors at 7 p.m.). Rex Theater, 1602 E. Carson St., South Side. $15. 412-381-6811 or www.rextheater.com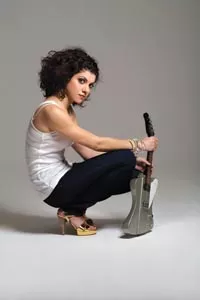 A 'bird in the hand: Carrie Rodriguez