If Mary Weiss, former singer of the '60s girl group the Shangri-Las, records a followup to her 2006 comeback, she could find her album's centerpiece by covering one particular song by the Canadian band Vancougar. The all-femme quartet has written a modern girl-group anthem in "(I Hope Your) Money (Keeps You Warm)": Built around a tender-but-tough vocal, the song gets added leverage from spot-on vocal harmonies, some pretty keyboard arpeggios and fuzz bass.
Vancougar doesn't simply mine the '60s aesthetic, though, preferring to draw on a number of styles that span various generations -- something that can't be pigeonholed as retro. Touting itself as "half indie-rock, half garage rock," Vancougar touches on elements of both styles, while avoiding the three-chords-and-a-sneer approach of garage girls like the Donnas.
Vancougar's name plays on the group's hometown of Vancouver, although its origins are in the Santa Cruz, Calif., of the late 1990s. There, two Canadian expats -- guitarist and lead vocalist Eden Fineday and bassist Becca Stewart -- crossed paths, although they never started a band until both headed back across the border. Keyboardist Megan Johnson and drummer CC Rose soon followed, and Vancougar played its first shows in 2003. Canadian Tuxedo, the band's sophomore album, was released on Mint Records and recorded at JC/DC Studios, which also gave birth to albums by the New Pornographers, which could explain the kick felt throughout the album.
Much of Canadian Tuxedo suggests what the Bangles probably sounded like in their early, scrappier days before teased hair and Susanna Hoffs' visage stomped all over their credibility. "Vanity" starts out with a stomping, four-on-the-floor beat and a dirty riff, but it goes on to add a hooky, stop-start break, a sea of backing vocals and some handclaps, which become soul claps on the following song, "Every Car." "Let It Go" begins with that same aching sentiment that Weiss patented with the Shangri-Las, but instead of languishing in a Spector-esque wall of sound, Fineday's protagonist is suddenly surrounded by a wall of power chords and fuzz.
In person, where a PA system can capture the harmonies and bury the shortcomings in the lyric department, a band like Vancougar can really bring a crowd to its feet.
Vancougar Sat., Oct. 25. Gooski's, 3117 Brereton St., Polish Hill. 412-681-1658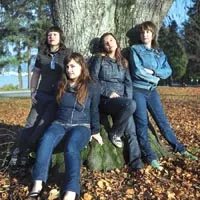 Canadian tuxedos: Vancougar