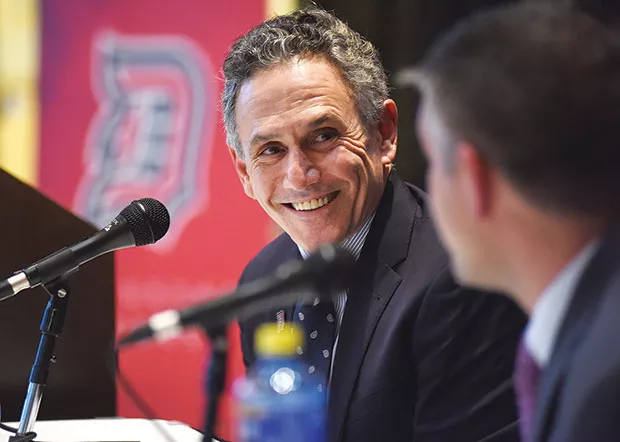 Photo courtesy of Dave DeNoma
Keith Dambrot
Pittsburgh certainly loves its duos. Rocky and Franco, Sid and Geno, Stan and Guy, Tunch and Wolf, Johnson and Finnegan, Romero and Savini, Dave and Dave; even King Friday XIII has Queen Sara Saturday. Before Carnegie Mellon was known for manufacturing robots, it manufactured the '70s sitcom duo of Lenny and Squiggy.
In recent years, another famous duo was blossoming on the Bluff at Duquesne University. The dynamic freshman hoops duo of Isiaha Mike and Mike Lewis II gave long-suffering Dukes fans a reason for hope on the way to the Palumbo Center. But in the offseason, Isiaha Mike left, leaving his Squiggy for the arguably greener pastures of Southern Methodist University.
However, Lewis is returning, and there's reason for fans to be excited because of the possibility of a new dynamic duo coming together in the form of Lewis and Keith Dambrot, a new coach and a proven winner.
In the early 2000s, the Akron Zips were a college team in the midst of another mediocre run. Much like the current program at Duquesne, the Zips were stuck in a perpetual malaise. In 2004, Keith Dambrot led the Zips to a 19-10 record, and that would be the low point of his tenure. For the next 12 seasons, the Akron Zips won 21 or more games every single year. Out of the hundreds of college-basketball programs in the country, only Duke and Gonzaga have done the same thing.
At Duquesne, Dambrot is facing the soft bigotry of low expectations — very low expectations. The Dukes are predicted (by almost everybody who predicts Atlantic-10 basketball) to finish in the basement. Projections of 10-22 are hung on the Dukes, while praise is heaped on Dayton and Virginia Commonwealth. Schools like Rhode Island and Davidson get respect, but the Dukes get none. But the A-10 hasn't yet met Keith Dambrot.
If you need a character witness, how about LeBron James? Dambrot coached the future King in his much-publicized high school days. The King of Cleveland has nothing but good things to say about his former mentor.
Dambrot's quest to return Duquesne to prominence is not only his job, it's personal. His dad, Sid, played for the Dukes in their heyday. Sid Dambrot was a teammate of Sihugo Green and Dick Ricketts from 1952-54. In those two seasons, the Dukes were 47-11 and were regularly ranked in the top 10. Dambrot recalls hearing his dad's old war stories from back when playing for the Dukes was a pretty big deal. Some of the old Palumbo Center's die-hard fans in the blue-and-red-leather Duquesne jackets may even remember his old man. Dambrot has been associated with winning his entire life; why would he stop now?
Although Isiaha Mike is gone, Lewis' return gives fans a reason to stay hopeful. Lewis led the team in points per game, with 14.1, and in free-throw percentage (83.2), and dropped a freshman record 63 treys from behind the arc. Tarin Smith will join him in the starting lineup. Smith was the team leader in assists per game (3.1) and also had 34 steals, the most on the roster. The talent of these two players can't be denied; the rest of the team remains to be seen. In 2004, there wasn't one person in the basketball world who thought the Akron Zips would win more than 20 games for 12 consecutive years. Nobody thinks Duquesne will do it, either. But it would be dumb to bet against Dambrot, especially with a player as talented as Lewis by his side.