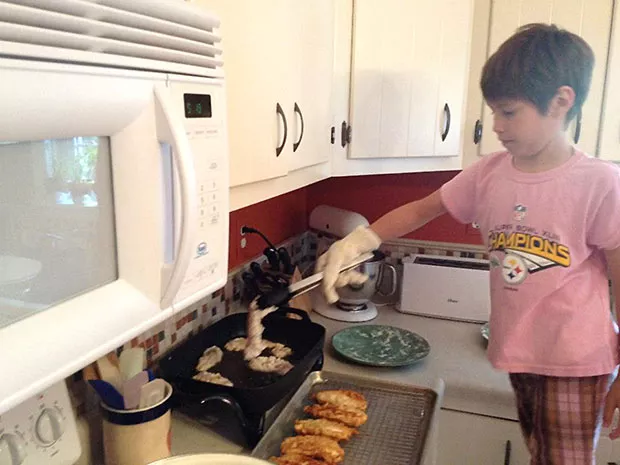 I started cooking when I was about 6. It was originally a way to get away from my older sister and younger brother. They always got me in trouble. When I was 8 or 9, one of my favorite cousins was going away to Penn State, and I wanted to cook fried chicken for her going-away party. I hadn't ever cooked anything that big before. We fried it at my aunt's house, because my mom (she's a vegetarian) didn't want the whole house smelling like chicken. It's my aunt's recipe, and I remember I was so young I had to stand on a stool to reach the pan. Also, I didn't like all the grease jumping out at me, so I wore a big glove on my hand. This recipe is an easy way to get delicious, crispy fried chicken.
Ingredients
3 lbs. boneless chicken strips
2 cups buttermilk
1 cup flour
¼ tsp. garlic powder
½ tsp. sweet paprika
¼ tsp. freshly ground pepper
1 tsp. salt
vegetable oil, for frying
Instructions
Toss the chicken, buttermilk and salt in a bowl. Cover and refrigerate for one hour.

Heat an inch of vegetable oil in a large deep skillet over medium-high heat until a deep-fry thermometer registers 360 degrees F.
Mix the flour, paprika, pepper and garlic powder in a shallow bowl. Remove the chicken from the buttermilk, shake off the excess and roll all the strips in the flour mixture until covered. Place the strips on plate.
Once the coating has set, place strips, a couple of pieces at a time, in the hot oil and fry, turning occasionally, until golden brown. Place on a wire rack above a cookie sheet.
After all the strips are fried, bake the chicken at 350 degrees for about 10 minutes, or until chicken is cooked through.
Makinley Magill, of Ellwood City, is 13 years old and has plans to become a chef. She's also the niece of City Paper editor Charlie Deitch.