Breakneck Tavern, a gastropub in Mars, is so new it's old again. Its bar and other interior features are constructed from materials reclaimed from the demolition of the previous building on the site. Other decor reaches even farther back in time — to when a foundry stood on the site along the Harmony Shortline railroad route that ran through the valley alongside Breakneck Creek. There's a mural of the foundry, rendered in gray tones to resemble a black-and-white photograph, and railroad artifacts repurposed in ingenious and attractive ways, such as spikes bent into coat hooks and electrical insulators as pendant lights.
But for all these rustic touches, this is no throwback, rail-themed shed. Lighting is warm, colors are cool, and the overall feel is current and contemporary. The menu, too, is on trend with sliders, flatbread pizzas and meats prepared on the grill, and salads that call their greens by name (arugula, baby spinach and, of course, kale). Pub standards like crab cakes and mussels are represented, too. In keeping with the overall sustainable theme, everything is scrupulously sourced.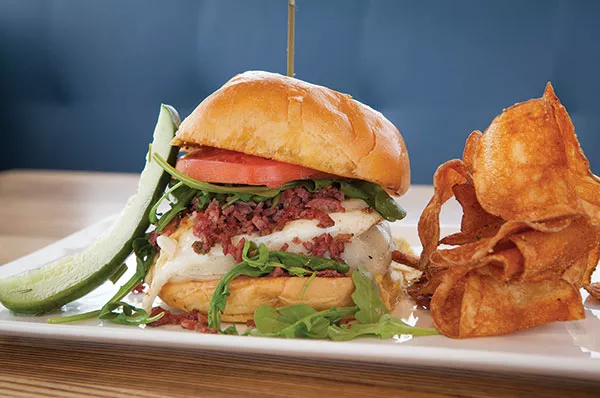 Photo by Heather Mull
House-ground burger with gruyere cheese, egg and house-made pastrami
The sandwich selection looked especially tantalizing. The mahi Cuban was a standout, with grilled fish wrapped in Serrano ham and topped with tricolor slaw, house pickle and spicy mayo. Two salads — quinoa and baby kale, and warm beet and goat cheese — caught our eye as well. But on a chilly evening, seated near one of two fireplaces in the lounge area, we went with the more wintry Brussels sprouts. Diminutive, halved sprouts were lightly roasted and tossed with parmesan and cured-lemon aioli. They were perhaps a little too lightly roasted; we would have liked crispier, almost-caramelized outer leaves. But the creamy, bright aioli, studded with nutty slivers of parmesan, was a delightful counterpoint to the sprouts.
A crab-cake "sammich" was more sophisticated than its name implied, served between slices of grilled focaccia with a slice of fried green tomato, leaves of arugula and a smear of cajun remoulade. The cake was suitably mild, yet satisfyingly creamy and briny, and set off by the tart tomato and subtly piquant remoulade.
An order of wings consisted of massive whole ones, available smoked or fried. We got fried, and loved the thin, crisp crust that held succulent meat. House BBQ sauce was perhaps too sweet, but we didn't mind too much, since it was sparsely applied, allowing the skin to stay crisp and the inherent flavors to emerge.
The same sauce worked better on the sweet and smoky pig flatbread, where it coated pulled pork mingled with chewy chunks of house-smoked pork belly, and then topped with jalapeño, white cheddar and crispy onion straws. The hot chili was scarcely apparent, but the smoky belly counteracted the sweet sauce and creamy melted cheese, while the light, crunchy straws contributed texture. The grilled crust was crisp yet chewy and held up well under all the toppings.
13 slides
Flat-iron steak was served in thick, broad slices over sides — we tried whipped potatoes and mushroom risotto — surrounded by demi-glace. The beef was tender and flavorful, nicely cooked to order, and the demi-glace was subtle enough to contribute some depth of flavor while letting the beef maintain center stage. The potatoes were also good, although less finely textured than "whipped" implies. The mushroom risotto was excellent, generously studded with shiitakes and pleasingly earthy. The arborio grains could have been a touch looser, but weren't too gummy.
At a moment when all too many new restaurants — and pubs — seem to be copying each other in a Möbius strip of imitation, Breakneck Tavern stands out. Certainly there is nothing new any longer about striving for sustainability, but Breakneck pulls it off with uncommon commitment. From the lively menu to a deep appreciation of the history of what appears to be an average suburban intersection, Breakneck Tavern breaks with formulaic approaches to deliver something unique to its time and place.