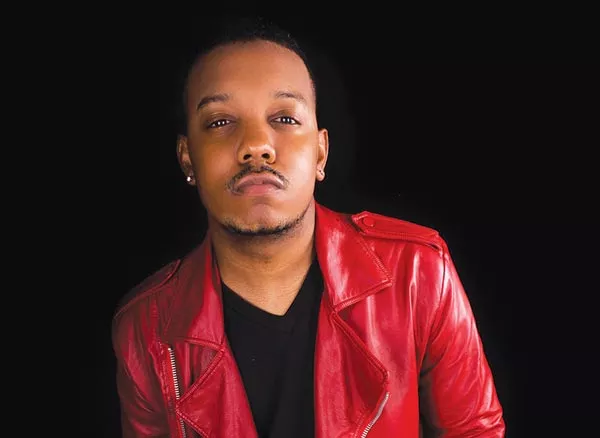 Photo courtesy of Mark Palmer
Landon Thomas
How does a Pittsburgh R&B artist go from performing at a suburban Moose Lodge to being featured in an award-winning film? Landon Thomas can tell you.
In 2014, Thomas, 23, received an email from former Shadow Lounge owner Justin Strong saying there was a movie being filmed locally that was looking for new artists. So, with the pluck that has defined the early stages of his music career, Thomas sent the producers some songs. "They didn't pick any of the songs. They actually looked me up, found the song that they wanted," says Thomas, "and then made me go and re-edit it so there were no cuss words."
The song is an R&B ballad, "LSD" (for love, sex, drugs), and the movie is Me and Earl and the Dying Girl, which, like Thomas, has Pittsburgh roots; not only was it filmed here, it's set here, too. The film won the U.S. Grand Jury Prize at the 2015 Sundance Film Festival.
The intersection of film and music has framed much of Thomas' experience. He says he learned how to sing by watching the TV movie The Temptations (which was filmed a few blocks from where Thomas lives in East Liberty). A large influence of his is Usher, who was also featured in a film, Poetic Justice, before making it big. And Thomas even had a stint in film school, experience that comes in handy when making music videos for Vevo.
Thomas grew up listening to his parents' music — Prince, Tupac, N.W.A. — on his front porch in Braddock and credits his mom, also a singer, for his vocal talent. How does she feel about some of his more risqué lyrics? "I have a 1-year-old daughter. She knows what I've been doing," he says, laughing.
While he pursues his music career, Thomas works full time and runs a production company, LIE Productions, which he started with friends, "people who I know will work diligently with me." He hopes to plan an all-R&B show by October.
Will he be making any Moose Lodge appearances soon? Maybe. As an artist, says Thomas, "You have to be willing to perform anywhere. The moment you start taking yourself too seriously is the moment it stops being fun."