City Theatre has a hit with this
wild comedy
, so much so that it's extended the show's run by nearly a week, through Sat., Oct. 22.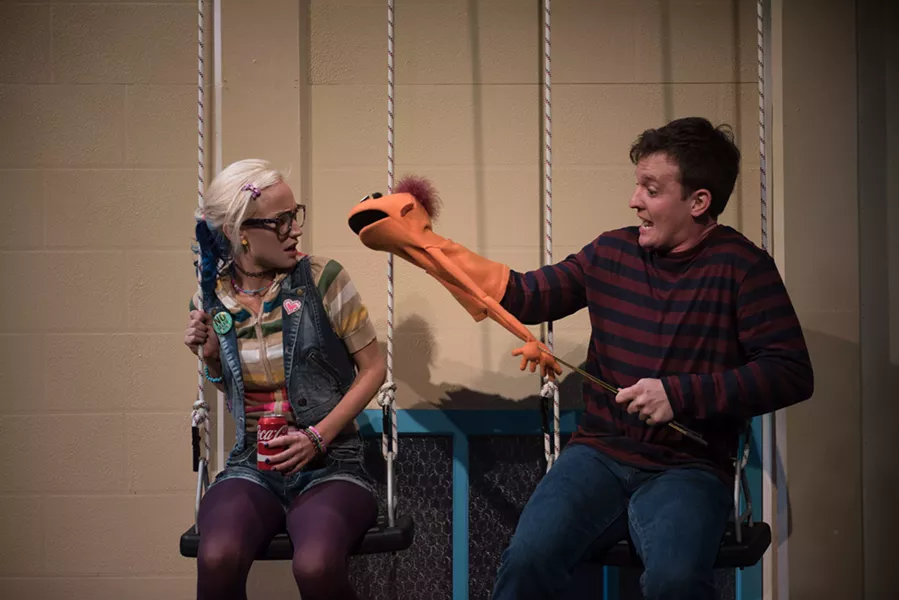 Photo courtesy of Justin Merriman
Maggie Carr and Nick LaMedica (with Tyrone) in "Hand to God"
City's staging is one of the first regional-theater production of playwright Robert Askins' Broadway smash about a suburban Texas Christian kid whose hand becomes possessed by a demonic puppet named Tyrone.
I saw the show this past Friday, and it's indeed very funny, yet with a surprisingly potent subtext about grief. Oh, and also with some epic puppet sex.
In other words, it's not for kids, with more f-bombs than I've heard at City Theatre maybe ever. (Also, perhaps City's shallowest stage ever: The scenery representing the walls of church basement is at most 10 feet from the lip of the stage, giving the whole thing, appropriately, the feel of a life-sized puppet show.)
Nick LaMedica excels as both troubled teenage puppeteer Jason and the deliciously wicked Tyrone. And the whole evening is a lightning-fast 90 minutes, including intermission.
Here's Ted Hoover's
review
for
CP
.
Bonus: Though
Hand to God
dates from 2011, it includes coincidental echoes of the current presidential campaign, including a "Miss Piggy" reference. However — and this is very important — all the puppet sex is consensual.
Hand To God
has four more performances, starting with tomorrow night's.
Regularly priced tickets start at $37.50, with special $15 tickets for patrons under age 30. Tickets are available
here
.
City Theatre is located at 1300 Bingham St., on the South Side.