Best Of Pittsburgh 2018 Readers' Poll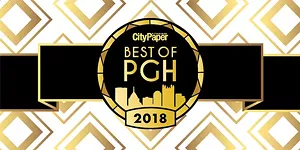 VOTING: NOW - JUNE 17, 11:59 P.M.
• You can only vote once per category.
• The Best Of Pittsburgh ballot log-in system is separate from the rest of pghcitypaper.com.
• All completed votes are subject to verification by our staff.
• City Paper reserves the right to disregard multiple ballots that are sent from the same IP address.
• Use the #CPBestOfPgh Campaign Tools to spread the word!
• Check out the FAQ page for more info.
• When you're done voting, download the I Voted badge to display proudly on your social sites.

To start voting, click the button below.
Note: Ad blockers must be disabled to view the ballot
---