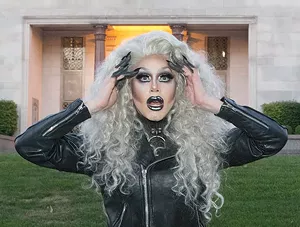 Best Drag Performer
Sharon Needles
www.sharonneedles.com
Aaron Coady, a.k.a. Sharon Needles, is Pittsburgh's favorite drag queen, but Needles is certainly not confined to the city limits. A nationally and internationally known performer, she's toured throughout the U.S., Europe, Australia and Canada. She's also graced the cover of OUT and IDOL magazines and was the winner of RuPaul's Drag Race season four.
2nd: Bambi Deerest
3rd: Lola LeCroix
Best Day Trip
Ohiopyle State Park
724-329-8591 or www.dcnr.state.pa.us
An hour or so drive from the city, Ohiopyle is a choose-your-own-adventure destination, with something for everyone. Go whitewater rafting, bike the Great Allegheny Passage, hike to Cucumber Falls or swim in the Youghiogheny River. Frank Lloyd Wright's Fallingwater (the second-place winner) is close by and, if you'd like to extend your trip, make a reservation at an area cabin or B&B.
2nd: Fallingwater
3rd: Lake Erie
Best Nonprofit
Hello Bully
www.hellobully.com
Since 2005, Hello Bully has been rescuing, rehabbing and re-homing frequently maligned American pit-bull terriers, including animals that were once used in dog-fighting and could now use a friendly couch instead. Donations go toward medical care, spaying and neutering, and the Hello Bully Halfway House, which helps rescued dogs make the transition to a forever home.
2nd: Bike Pittsburgh
3rd: Arcade Comedy Theater
Best Social Media Personality
Pittsburgh Dad
www.pghdad.com
Curt Wootton hits a cultural nerve with his sitcom-style portrayal of the typical yinzer known as Pittsburgh Dad. Anyone who knows and loves this city is reminded of a loved one when Wootton's character sighs over a PennDOT project, or threatens to ship his kid off to a psychologist if he becomes a Ravens fan.
2nd: Rick Sebak
3rd: Mark Madden
Best Activist
Julia Johnson
When the media attends a local protest in Pittsburgh, coverage usually includes a picture of Julia Johnson. Whether the issue is police brutality, LGBTQ inclusion or prisoner health, the young activist can usually be found at the center of any local controversy with megaphone in hand.
2nd: Jasiri X
3rd: Vanessa German
Best Fashion Icon
Richard Parsakian
As the owner of Eons vintage clothing store in Shadyside, you could say fashion is in Richard Parsakian's blood. But through his involvement with organizations like the Pittsburgh AIDS Task Force, Planned Parenthood and the local arts community, he's as well known for his philanthropy as for his excellent fashion sense.
2nd: Kiya Tomlin
3rd: Tori Mistick
Best Place to Hide From Zombies
Monroeville Mall
In George Romero's Dawn of the Dead, the 1978 horror film that depicted people fending off zombies from inside the Monroeville Mall, only two survive. Today, a strategist might advise against holing up in a space that provides the undead with ample room to surround it, but Pittsburghers are nothing if not loyal to the old ways.
2nd: House of the Dead, Lawrenceville
3rd: Frick Park
Best Local Mascot
The Pirate Parrot
www.pirates.com
The Pirate Parrot was hatched at Three Rivers Stadium on April 1, 1979. Since then, he has spent his summers cheering on the team, posing for pictures, launching hot dogs and taunting the opposition. These days, he's one of the most well-known figures to ever wear a Buccos jersey.
2nd: Iceburgh, Pittsburgh Penguins
3rd: Steely McBeam, Pittsburgh Steelers
Best Neighborhood Landmark
Cathedral of Learning
Oakland
With its dozens of authentically outfitted Nationality Rooms, the Cathedral of Learning pays homage to worldwide cultures from Armenian to Japanese to Welsh. The gothic tower, full of classrooms and offices, rises above Oakland, and inside, its great hall would give Hogwarts a run for its money.
2nd: Point State Park
3rd: Duquesne Incline
Best Local Male Athlete
Andrew McCutchen
The dreads might be gone, but the swagger and talent are still there. Cutch, as he is affectionately known, continues to put up MVP-caliber numbers, and this year led the Buccos to another playoff berth. And while we all miss those magical dreads, at least they were auctioned off to benefit Pirates Charities.
2nd: Sidney Crosby
3rd: Neil Walker
Best Local Female Athlete
Meghan Klingenberg
Before she was a starting defender for the U.S. Women's National Soccer Team, Klingenberg played the sport she loves at Pine-Richland High School. So, while the rest of the world "discovered" her during her exceptional play at this summer's World Cup, locals in the know have been fans for years.
2nd: Swin Cash, New York Liberty of the WNBA
3rd: Lisa Horton, quarterback of the Pittsburgh Passion professional football team