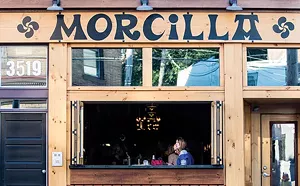 Best New Restaurant (as of June 2015)
Morcilla
3519 Butler St., Lawrenceville
412-652-9924 or www.morcillapittsburgh.com
Inspired by chef Justin Severino's trips to Spain, this small space brings authentic Spanish flavors and ambiance without overkill. Get there early, sip a gin and tonic, and sample montaditos in the standing-only bar, before indulging in smoked pork ribs, roasted chicken or marinated octopus.
2nd: Poros
3rd: Apteka
Best Restaurant (Downtown)
Gaucho Parrilla Argentina
1601 Penn Ave., Strip District
412-709-6622 or www.eatgaucho.com
The grilled meats might be the initial draw, but only a fool would overlook the delicious side dishes, including potatoes, corn, sweet potatoes and empanadas. Meats come as sandwiches or full entrees; it's the best-priced steak in town. Everybody knows it, so come prepared to wait in line.
2nd: Tako
3rd: Meat and Potatoes
Best Restaurant (North)
Bella Frutteto
Franklin Village, 2602 Brandt School Road, Wexford
724-940-7777 or www.bellafrutteto.com
From its signature apple ravioli to its Sunday Sauce dinner (down-home rigatoni, meatballs and sausage), this casual Italian restaurant with a full bar ranges from modern to traditional, with stops for meatloaf burgers and brown-rice penne. The patio overlooks Soergel's Orchard, hence the restaurant's name.

2nd: Off The Hook
3rd: Willow
Best Restaurant (South)
Bistro 19
711 Washington Road, Mount Lebanon
412-306-1919 or www.bistro19.com
This modern yet cozy restaurant is rightly a popular destination in the South Hills. The menu, which offers elevated American cuisine expertly curated and executed by chef Jessica Gibson Bauer, focuses on local and seasonal.

2nd: Wild Rosemary Bistro
3rd: Arancini House
Best Restaurant (East)
Cure
5336 Butler St., Lawrenceville
412-252-2595 or www.curepittsburgh.com
The small menu here focuses on locally sourced Mediterranean-style food. A six-course tasting menu lets diners sample the chef's specialties like hanger steak, while an a la carte menu offers lighter fare like oysters, pasta, soups, salads and cured meats.
2nd: Apteka
3rd: Smoke Barbeque Taqueria
Best Restaurant (West)
Bakn
335 E. Main St., Carnegie
412-275-3637 or www.eatbakn.com
This welcoming Carnegie spot has a laser focus on two things: breakfast and bacon. Using these two inspirations, chef Randy Tozzie, a Carnegie native, has created a menu that makes breakfast an all-day affair, with spins on pancakes, eggs and breakfast sandwiches.

2nd: Tartine
3rd: Hyeholde Restaurant
Best Chef
Justin Severino, Morcilla and Cure
Morcilla (3519 Butler St.) and Cure (5336 Butler St.), Lawrenceville.
Justin Severino has a knack for executing international cuisine with regional flair. With a focus on locally sourced ingredients and season-shifting menus, Severino's inventive, Mediterranean-style dishes have played a vital role in Pittsburgh's growing food scene since Cure opened in 2011.

2nd: Bill Fuller, Big Burrito Group
3rd: Richard DeShantz, Richard DeShantz Restaurant Group
Best Indian Restaurant
Taj Mahal
7795 McKnight Road, North Hills
412-364-1760 or www.tajmahalinc.com
Offering a large menu representing cuisine from across India, house-made yogurt and cheeses, and a fully stocked bar, Taj Mahal is well worth the trip. The popular (and vast) lunch and dinner buffets are highly recommended — just make sure to bring your appetite.
2nd: People's Indian Restaurant
3rd: Udipi Café
Best Japanese Restaurant
Nakama
1611 E. Carson St., South Side, and 10636 Perry Highway, North Hills
www.eatatnakama.com
Whether enjoying the showy preparation at the hibachi grill, or grabbing an egg roll on the go from the food truck, Nakama is a reliable favorite for Pittsburghers seeking tasty Japanese fare. Besides sushi, the menu offers a variety of inventive items like crispy salmon fritters and sea-scallop lettuce wraps.

2nd: Umami
3rd: Umi
Best Italian Restaurant
Piccolo Forno
3801 Butler St., Lawrenceville
412-622-0111 or www.piccolo-forno.com
Since 2005, this BYOB Tuscan Italian restaurant has specialized in wood-fired pizzas and fresh hand-made pasta, served in such traditional dishes as lasagna, tortelli and ravioli. Panini and appetizers, like bruschetta and beef and pork meatballs, make for lighter fare.

2nd: Dish Osteria and Bar
3rd: Girasole
Best Thai Restaurant
Nicky's Thai Kitchen
903 Penn Ave., Downtown, and 856 Western Ave., North Side
www.nickysthaikitchen.com
Nicky's Thai Kitchen holds a special place among lovers of Thai food. Grab a quick lunch at the Downtown location, or a slow-paced summer dinner in the North Side location's beautiful back garden. Bring your own bottle to sip while you dine.

2nd: Thai Me Up
3rd: Noodlehead
Best Chinese Restaurant
China Palace
5440 Walnut St., Shadyside
412-687-7423 or www.pittsburghchinapalace.com
This restaurant boasts excellent service, friendly staff and modern takes on classic Chinese dishes. But you'll still find longtime favorites such as fried rice, lo mein, General Tso's chicken — for eat-in, takeout and delivery. Don't forget your fortune cookie.
2nd: Sesame Inn
3rd: WaiWai
Best Middle-Eastern Restaurant
Aladdin's
Multiple locations
www.orderaladdins.com
This restaurant uses Lebanese staples like olive oil, nuts, vegetables, yogurt and lean meats in more than 100 different vegetarian, vegan, gluten-free and meat dishes. Expect seasonings like mint, parsley, oregano, garlic, nutmeg and cinnamon. Specialties include Mediterranean shish kabob and shawarma.

2nd: Ali Baba
3rd: Istanbul Sofra
Best Mexican/Latin American Restaurant
Mad Mex
Multiple locations
www.madmex.com
Specializing in Cal-Mex, this locally based chain is a favorite with Pittsburghers. Popular items include the enchiladas smothered in guajillo chile or roasted tomatillo salsa, and the barbacoa beef stuffed into a burrito or taco. In the fall, try the Gobblerito, a Thanksgiving-style turkey burrito.
2nd: Round Corner Cantina
3rd: Casa Reyna
Best Contemporary American Restaurant
Eleven
1150 Smallman St, Strip District
412-201-5656 or www.elevenck.com
The menu at Eleven changes with the seasons, but it's a year-round destination for Pittsburghers seeking sophisticated, upscale eats, in an unpretentious atmosphere. The fare here ranges from pub grub like braised veal burgers and calamari to wild Alaskan halibut and smoked lamb belly.

2nd: Cure
3rd: Altius
Best Vegan/Vegetarian Restaurant
B52 Café
5202 Butler St., Lawrenceville
412-408-3988 or www.b52pgh.com
The days of vegan meaning simply "salad" are long gone. B52 offers vegan fare with Middle Eastern flair. Dishes include: moussaka (with cashew cheese), seitan kebabs and spinach pie. Salad is still available, but it comes with pickled turnips and falafel.

2nd: Apteka
3rd: Double Wide Grill
Best Restaurant to Take the Kids
Eat'n Park
Multiple locations
www.eatnpark.com
The kids' menu (for those 10 and under) offers lots of healthy, simple options for even the pickiest eater. The prices are reasonable enough to take the whole family, and the atmosphere is low-key. A free Smiley cookie or apple awaits each child at the end of the meal.

2nd: Burgatory
3rd: Franktuary
Best Steakhouse
Hyde Park Prime Steakhouse
247 North Shore Drive, North Side
412-222-4014 or www.hydeparkrestaurants.com
This may be a small regional chain with spots in Ohio and Pennsylvania, but there's nothing more Pittsburgh than a hunk of meat cooked perfectly. You can get everything from a 22-ounce porterhouse to imported Wagyu beef to an 18-ounce New York Strip that's been dry-aged for 40 days.

2nd: Morton's The Steakhouse
3rd: The Capital Grille
Best Seafood
Monterey Bay
1411 Grandview Ave., Mount Washington, and 146 Mall Circle Drive, Monroeville
www.montereybayfishgrotto.com
Both locations offer fresh fish that is flown in daily from around the world; the fish board at Monterey Bay is like a geography lesson. It's also known for its top-notch crab cakes. For pure swank, hit up the Mount Washington location, with some of the best views of the city.

2nd: Off The Hook
3rd: Muddy Waters Oyster Bar
Best Sushi
Umami
202 38th St., Lawrenceville
412-224-2354 or www.umamipgh.com
Classified as an izakaya — a casual Japanese gastropub — this unassuming bar and restaurant serves up simple but rich options for sashimi, nigiri, onigiri and temaki (a cone-shaped roll wrapped in nori), paired with great cuts of fish such as tuna, fluke and Spanish mackerel.

2nd: Umi
3rd: Nakama
Best BBQ
Union Pig & Chicken
220 N. Highland Ave., East Liberty
412-363-7675 or www.unionpgh.com
Everything you'd expect from a BBQ joint: ribs, chicken, pulled pork, brisket … and tofu. That's right: Your vegan friends can have dinner with you, while you eat copious amounts of smoked meats and fried chicken.
2nd: Smoke Barbeque Taqueria
3rd: Smoq Pitt