Page 3 of 3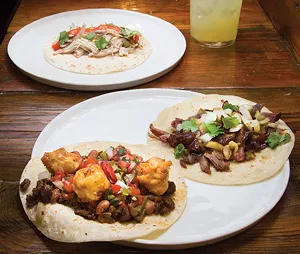 Best Taco
Smoke BBQ Taqueria
4115 Butler St., Lawrenceville
412-224-2070 or www.smokepgh.com
Formerly in Homestead, Smoke BBQ Taqueria, now in Lawrenceville, still serves up its fan-favorite "chickenapple" and chorizo taco, but has since added more vegetarian, vegan and gluten-free options. The new location has bigger everything — staff, kitchen, meat-smoker and a flour-tortilla-maker that can produce hundreds of tortillas an hour.
2nd: Tako, Downtown
3rd: Las Palmas, Oakland
Best Coffeehouse
Espresso A Mano
3623 Butler St., Lawrenceville
412-918-1864 or www.espressoamano.com
With knowledgeable baristas, quality coffee and superior machinery, this is more than your neighborhood coffee shop. The espresso bar offers elevated takes on favorites like chai lattes and caramel macchiatos, in hot and iced varieties. Much of the coffee is direct-trade and organic, with sustainable staples like Counter Culture Coffee and Fort Weight Coffee.
2nd: Crazy Mocha, multiple locations
3rd: Beehive, South Side
Best Desserts
La Gourmandine
4605 Butler St., Lawrenceville, and 300 Cochran Road, Mount Lebanon
www.lagourmandinebakery.com
La Gourmandine is a passport to a small French street where the heavenly scent of baking bread and buttery pastry hangs in the air. Fabien and Lisanne Moreau moved from France and brought their pastry skills with them, giving Pittsburgh a taste of almond croissants, baguettes and opera cake.
2nd: Oakmont Bakery, Oakmont
3rd: Sinful Sweets Chocolate Company, Downtown
Best Bakery
Oakmont Bakery
531 Allegheny Ave., Oakmont
412-826-1606 or www.oakmontbakery.com
Oakmont Bakery has such a large variety of baked goods that you'll be glad there is a long wait in line: Now, you can take your time to decide what to pick. Options include a variety of bagels, breads, cookies, pies and pastries, as well as regional favorites like gobs, ladylocks and biscotti.
2nd: La Gourmandine, Lawrenceville and Mount Lebanon
3rd: Prantl's Bakery, Shadyside and Downtown
Best Bread
Mancini's Bakery
Multiple locations
www.mancinisbakery.com
Mancini's Bread was founded in 1926, which is exactly how long Pittsburghers have been boasting about great their hometown loaf is. The bread, with that perfectly crusty exterior and soft, pillowy inside, is a staple for sandwiches across the city, and spotted on tables in houses, diners and fancy restaurants across the region.
2nd: BreadWorks, North Side
3rd: Bread and Salt, Bloomfield
Best Sunday Brunch
Grand Concourse
100 W. Station Square Drive, South Side
412-261-1717 or www.grandconcourserestaurant.com
When it comes to picking the city's best Sunday brunch, it's hard to compete with the Grand Concourse. There's the extravagant ambiance offered by dining in the beautiful, historic 114-year-old Pittsburgh & Lake Erie Railroad Station, plus the generous selection of hot and cold foods. It makes any Sunday feel like a special occasion.
2nd: e2, Highland Park
3rd: Meat and Potatoes, Downtown
Best Happy Hour
Mad Mex
Multiple locations
www.madmex.com
The "Happy Hora" at this mini-chain of local Tex-Mex restaurants is a weekday favorite, running 4:30-6:30 p.m. Monday through Friday. Take the edge of the work day with a budget-priced 22-ounce Big Azz Margarita ($7), or a half-priced draft. Once relaxed, don't be surprised if happy hour slides into a convivial dinner.
2nd: Harris Grill, Shadyside
3rd: Bigham Tavern, Mount Washington
Best Waitstaff
Bigham Tavern
321 Bigham St., Mount Washington
412-431-9313 or www.bighamtavern.com
With this establishment's quirky menu humor, it's only natural that the waitstaff at Bigham Tavern would follow suit with a fun and friendly demeanor that keeps customers returning. But the Bigham crew isn't just fun and games — they're also tops in filling drinks and taking precision orders.
2nd: Harris Grill, Shadyside
3rd: Eleven, Strip Distict
Best Outdoor Dining
Harris Grill
5747 Ellsworth Ave., Shadyside
412-362-5273 or www.harrisgrill.com
On warm days and nights, patrons can be found sitting out on the patio, with its ample seating and vine-covered gates. The breezy ambiance makes Harris Grill a great spot for happy-hour drinks and appetizers (Tuesday is Free Bacon Night), as well as the perfect perch for scoping out the street scene.
2nd: Double Wide Grill, South Side and Mars
3rd: Pusadee's Garden, Lawrenceville
Best Late-Night Menu
Eat'n Park
Multiple locations
www.eatnpark.com
Honestly, there's something about crunchy food late at night, and Eat'n Park has diners covered: planks of fried zucchini, baskets of crisp onion rings and piles of fresh-cut potato chips, all offered at a late-night discount. The after-hours menu also includes breakfast dishes for those looking turn their late night into an early morning.
2nd: Mad Mex, multiple locations
3rd: Doce Taqueria, South Side
Best Local Beer
East End Brewing Company
147 Julius St., Larimer
412-537-2337 or www.eastendbrewing.com
You'll likely recognize this brewery's growlers, featuring a sun shining behind a frothy pint. East End Brewing has been making beer for more than a decade, and now offers four year-round brews, six seasonals, and several favorites and "one-offs." Try a sample at the Pittsburgh Public Market, or check out the brewery for events.
2nd: Rivertowne Brewing, Export
3rd: Penn Brewery, North Side
Best Restaurant Wine List
Sonoma Grille
947 Penn Ave., Downtown
412-697-1336 or www.thesonomagrille.com
Sonoma Grille has one of the most extensive and diverse wine lists in the city, with an emphasis on West Coast wines. Patrons can partake in their favorites from the Napa and Sonoma valleys, or opt for wine flights to try out new varieties and wineries. Nibble on tapas, or book a date for the jazz brunch.
2nd: The Allegheny Wine Mixer, Lawrenceville
3rd: Eleven, Strip District
Best Restaurant Beer List
Sharp Edge
Multiple locations
www.sharpedgebeer.com
Remember that beer you had abroad last year? Sharp Edge probably has it. A lengthy menu offers beers from countries as diverse as Jamaica and the Czech Republic, plus local Pennsylvanian breweries and other craft favorites. And for Belgian-beer selection, Sharp Edge is unparalleled.
2nd: Fat Heads, South Side
3rd: Industry Public House, Lawrenceville
Best Locally Made Wine or Spirit
Wigle Whiskey
2401 Smallman St., Strip District, and 1055 Spring Garden Ave., North Side
412-224-2827 or www.wiglewhiskey.com
Since opening in 2012, Wigle has gone from being the first post-prohibition distillery in the city to the most-awarded craft distillery in the country. The whiskey-maker opened an outdoor garden at its barrel house last year, and continues to create new spirits, including this year's release of Pennsylvania Bourbon.
2nd: Arsenal Cider House, Lawrenceville
3rd: Pittsburgh Winery, Strip District
Best Food Truck
PGH Taco Truck
www.pghtacotruck.com
The fast, fresh and economically priced tacos have made this relatively long-running food truck a favorite around town. Seasoned meats and veggie substitutes are wrapped in corn tortillas and topped with lively accompaniments — opt for ground beef, more exotic Thai chicken or curried potatoes. The truck makes a lot of regular stops: Keep abreast at @PghTacoTruck.
2nd: Mac & Gold Truck
3rd: BRGR Truck
Best Juice/Smoothie Bar
Pittsburgh Juice Company
3418 Penn Ave, Lawrenceville
412-586-5060 or www.pittsburghjuicecompany.com
It's no coincidence that Pittsburgh Juice Company — founded by siblings Naomi and Zeb Homison, the latter a national yoga champion — is attached to a hot-yoga studio. But you don't have to undergo sweaty stretching to treat yourself to PJC's cold-pressed juices, smoothies, juice shots and raw vegan snacks.
2nd: Amazing Café, South Side
3rd: East End Food Co-op, Point Breeze
Best Food Festival
St. Nicholas Greek Food Festival
419 S. Dithridge St., Oakland
www.stnickspgh.org
This is the one worth marking the calendar for — it rolls around every May. Conveniently located in central Oakland, the church-run festival offers a week's worth of Greek food (from baked goods and snacks, to full meals), as well as live music and outdoor seating. You can even order your food online for easy pick-up.
2nd: RibFest, Heinz Field, North Side
3rd: Little Italy Days, Liberty Avenue, Bloomfield