Page 2 of 3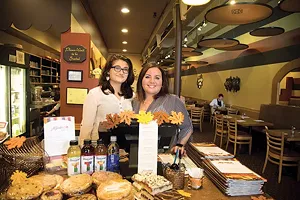 Best Middle-Eastern Restaurant
Aladdin's Eatery
Multiple locations
www.aladdinseatery.com
While this long-running regional chain offers such Lebanese-American favorites as falafel, baba ghanoush and stuffed grape leaves, it's also known for its fresh, tasty pita sandwiches and "pitzas," all on homemade pita bread. Aladdin's is also veg-friendly, with meatless options for everything on the menu.
2nd: Ali Baba, Oakland
3rd: Kassab's, South Side
Best Contemporary American Restaurant
Eleven
1150 Smallman St., Strip District
412-201-5656 or www.elevenck.com
Exactly 11 years after opening, this exponent of contemporary American cuisine remains a huge favorite for Chef Derek Stevens' seasonal menu — from roasted chicken to sea scallops with grits, and from tuna tartare to the celebrated Eleven Burger. Add its elegant yet casual atmosphere and extensive but carefully curated wine list, and Eleven still goes to 11.
2nd: Cure, Lawrenceville
3rd: Meat and Potatoes, Downtown
Best Steakhouse
Hyde Park
247 North Shore Drive, North Side
412-222-4014 or www.hydeparkrestaurants.com
Because this upscale steakhouse is located near the sports arenas, you're just as likely to see Neil Walker jerseys as you are Armani suits. All your traditional cuts of beef are here, but Hyde Park also offers options like imported Japanese Waygu beef, and steaks that have been dry-aged as long as 40 days.
2nd: Morton's The Steakhouse, Downtown
3rd : Eddie Merlot's, Downtown
Best Seafood
Penn Avenue Fish Company
2208 Penn Ave., Strip District, and 308 Forbes Ave., Downtown
www.pennavefishcompany.com
Lunch at the Downtown spot offers a variety of upscale sandwiches, while the dinner menu has more refined entrees like Chilean sea bass and grouper with braised kale and green tomatoes. The sushi and clam chowder are not to be missed, nor are the fish tacos at the Strip's more casual location.
2nd: Luke Wholey's Wild Alaskan Grille, Strip District
3rd: Monterey Bay Fish Grotto, Mount Washington
Best Sushi
Nakama
1611 E. Carson St., South Side, and 10636 Perry Highway, Wexford
www.eatatnakama.com
An extensive drink list, entertaining chefs and great views of the South Side passersby on East Carson Street are all pluses, but diners appreciate Nakama for its commitment to high-quality sushi. The red dragon maki and Pittsburgh Penguins roll are customer favorites.
2nd: Umi, Shadyside
3rd: Penn Avenue Fish Company, Strip District and Downtown
Best Burger
Burgatory
Multiple locations
www.burgatorybar.com
Burgatory would be worth the trip just for its selection of traditional and off-the-wall burgers — like the Piggy Butter and Jelly, featuring pickles, bacon, peanut butter and habañero jelly. But add the option of elk, bison, veggie or crab patties, plus the fantastic milkshakes (spiked with alcohol or not), and it's a can't-miss burger joint.
2nd: BRGR, multiple locations
3rd: Tessaro's, Bloomfield
Best Pizza
Mineo's Pizza House
2128 Murray Ave., Squirrel Hill, and 713A Washington Road, Mount Lebanon
www.mineospizza.com
Pittsburgh has room for many styles of pizza, and everyone will claim a favorite, but Mineo's continues to make our Best Of list. The pizza house serves hot and greasy, slightly crispy-bottomed slices (as well as doughy Sicilian-style squares) in an unpretentious, old-school parlor. Plus, traditional slices are less than $2.
2nd: Fiori's Pizzaria, Brookline
3rd: Spak Brothers, Garfield
Best Wings
Bigham Tavern
321 Bigham St., Mount Washington
412-431-9313 or bighamtavern.com
With 30 varieties of wing flavors, Bigham Tavern is a must-stop on wing night — or any night. Can you handle the heat? Try the Cluckin' Hot (a dry rub with ranch and cayenne). Or do something different with Thai Spicy Peanut. Get there early on Wednesdays for 44-cent wings.
2nd: Quaker Steak & Lube, multiple locations
3rd: Birmingham Bridge Tavern, South Side