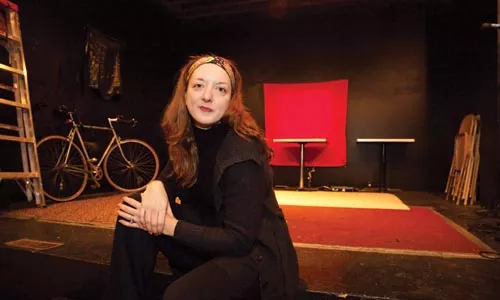 Jennifer Quinio keeps it current at ModernFormations.
ModernFormations
4919 Penn Ave., Garfield
412-362-0274 or www.modernformations.com
"It'sjoy," announces the title of Jason Rosemeyer's new show in the front room of ModernFormations Gallery and Performance Space. In the back room, meanwhile, the title of Christian Breitkreutz's concurrent exhibition sounds an ominous note: "The Ghost Machine Part 2: The Day the Devil Came to Town."
But contrast is complementary at ModernFormations, which opened nearly a decade ago. Back then, founder Jennifer Quinio was a gallery attendant at The Andy Warhol Museum. She'd studied art history and studio art at the University of Pittsburgh, and she knew a lot of local artists. "They complained about not being able to show anywhere," says Quinio, who also wished to see more adventuresome work than most other venues were showing.
When she launched ModernFormations, it was among the first galleries on Penn Avenue's now-bustling Bloomfield/Friendship/Garfield arts corridor. Now, the storefront gallery is an anchor of the local scene, featuring monthly shows and an annual Spring Salon, in which gallery-goers vote on which of the exhibiting artists will get a solo show in December.
The gallery's capacious, purple-walled back room also hosts a year-round array of literary readings and other performances, including the online magazine New Yinzer's TNY Presents.
But ModForm is best known for its art shows, which usually open as part of the Penn Avenue Arts Initiative's monthly first-Friday gallery crawl, Unblurred.
During the Nov. 5 crawl, visitors entering the brightly lit front room were met by some 20 quirky drawings by Rosemeyer, 30, an area native who lives in Wilkinsburg. The self-taught, former Pitt philosophy major's works in acrylic, gouache and ink are sketch-like renderings on subdued abstract backgrounds.
In one, two men stand side-by-side, both of them naked and facing the viewer, a weight bench in the background. The exhibit itself, meanwhile, draws its title from the drawing "Snowstorm Dreams," which depicts a distracted-looking guy and girl on opposite sides of the work, between them the words "It's not a kiss yet, but I think it's joy."
ModForm's signature space is its back room, where the artfully low-key lighting gets high marks from local artists for how it showcases work. Here, 19 paintings by Breitkreutz summon a surreal, weird-old-America landscape. It's haunted by ghosts who look like hairy-armed guys dressed in bed sheets with eyeholes. And it's stalked by a plump, dapper Devil, a middle-aged man who wears a striped purple suit and bowler hat while pushing his cartful of little human skulls.
Breitkreutz, 27, is himself nattily attired in a striped tie and porkpie hat. The Forest Hills native, who now lives in the East End, studied graphic design at LaRoche College and is self-taught as a painter. This series of autumn-hued acrylic-and-inks on wood panel is inspired by the Delta blues -- "the old creepy stuff, the stuff that counts," he says, as recordings by the likes of Robert Johnson crackle from the gallery's sound system.
Breitkreutz's paintings also include "May ghosts tuck you in," with two of the aforementioned specters crouched over a skull-headed couple in evening wear, who lay in an open grave.
But if Breitkreutz's work is wittily somber, he's plenty enthused about ModernFormations: This is his third show here, and all three have been alongside Rosemeyer's work. Quinio makes it relatively easy for artists to exhibit: The gallery fee is $150, divided among multiple artists and waived, say, if the artists pitch in by buying the food for the reception.
Breitkreutz has exhibited at other local galleries. But for foot traffic, ambience and more, "this is my favorite one, hands down," he says. "What's not to like?"