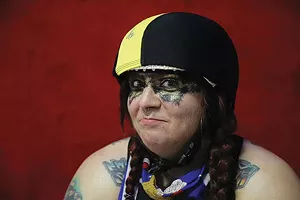 CP photo by Stephen Caruso
Bonecrusher, winner of Best Female Pittsburgh Athlete
Bonecrusher, of the Steel Hurtin' roller-derby team, is an absolute monster on the track. Her prowess as a blocker, and her penchant for bringing the hurt, while wearing sparkly face paint, has netted her the adoration of derby fans. She'll realign your back, free of charge!
Other Finalists
2nd: Meghan Klingenberg (Olympic and pro soccer)
3rd: Leah Smith (Olympic swimming)