Mark Miller, Monterey Pub
1227 Monterey St., North Side
412-322-6535 or www.montereypub.com
Mark Miller doesn't, like, light your drinks on fire, or toss bottles through the air. He doesn't have a signature drink with sparklers in it or any of that crap. "I'm not a flashy guy," he says, standing behind the bar he has presided over since 2005.
So why does he already have a half-dozen customers in the middle of a weekday afternoon? And why is Miller a favorite barkeep among City Paper readers from all over town, when Monterey Pub is a neighborhood watering hole without a dance floor or a VIP lounge?
Maybe it's because Miller isn't a flashy guy, and because the Monterey Pub is a neighborhood watering hole without a dance floor or a VIP lounge.
"It's about having a loyal following," says Miller. "Because that's who votes."
Which is true. Even more than in other city neighborhoods, people who live in the War Streets can be passionate about living in the War Streets. And the Monterey Pub is where a lot of them come to gather.
While the bar has plenty of Emerald Isle trappings, neither Miller nor many of the regulars are Irish. Monterey Pub's real Irish inheritance is the fact that it's a bar -- like so many in Ireland -- that serves as a neighborhood hub where you might bring the family. Or as Miller puts it, "This isn't one of those political Irish bars, where people will give you a hard time for ordering the wrong whiskey." (Since working there, Miller himself, once a bourbon man, has acquired a taste for Tullamore Dew. And among the offerings on tap are Guinness and Smithwick's.)
No one values those close community connections more than Miller himself. A native of Bloomsburg, Pa., who came to Pittsburgh to study law more than a decade ago, Miller has been working in the service game since high school. His stints include time at Tonic, Downtown, and in that time "I've done everything from washing dishes to being the general manager. But this is what I like the best, because you get to know the customers. I like places like this, that are really driven by the regulars." And before he even worked at Monterey Pub, its presence convinced him to rent an apartment around the corner.
"The War Streets has such a nice mix of people -- there's a fairly large gay population, families, people who've moved back into the city from the suburbs," Miller says. "And this pub is very much a slice of that neighborhood."
Miller has since settled down in Highland Park, but you'll still find him here most Tuesdays, Thursdays, Fridays and Saturdays. And with the exception of St. Patrick's Day -- when "we have one person just assigned to the Guinness tap" -- it's usually just him behind the bar.
Of course, a bartender's life isn't always easy. "It's a little like being on stage," Miller says: "If you're having a bad day, you can't bring it in with you." And because of his work schedule, he misses a lot of opportunities to see his wife, fellow "Best of Pittsburgh" honoree Olga Watkins, fronting her popular blues band. "You're always working when others are playing," Miller says.
Then again, "A lot of this job isn't really like work at all," he adds. "You develop a lot of friends." And it's no coincidence that you'll sometimes find him here even on a night off. "It's nice to sit on the same side of the bar sometimes, and buy them a drink."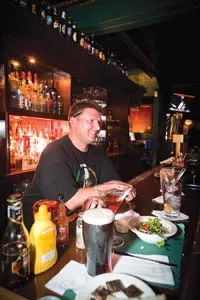 Now pouring: It's always Mark Miller time at Monterey Pub.