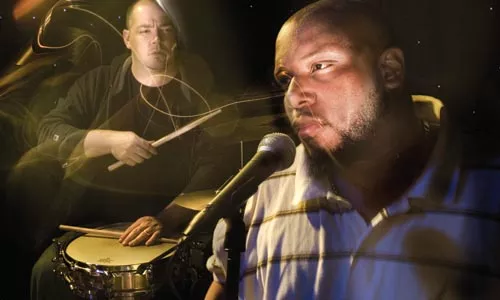 Actual music: David Throckmorton (left) and Akil Esoon of Beam.
You could argue for hours about what makes Beam unique on the local scene. For my money, it's the curious alchemy that goes into the groove, a reverse engineering of decades of DJ and hip-hop culture. What began as just a drummer playing a kit became a loop, a sample, a programmed sequencer ... technology's transformation of groove that, in the hands of drummer David Throckmorton, comes out the other end as simply a drummer playing a beat. It's a little unsettling to hear and see a human playing the types of beats you're used to hearing from a computer.
"Sure, there was stuff on the Sugar Hill label in the '70s, when they were using a band," says Throckmorton, "but for the most part [hip-hop] was all based off of records and finding breakbeats on records, and that's just how the culture started. Until ?uestlove from the Roots or bands in the mid-'90s -- a few bands started incorporating drummers, but all of those bands are underground bands."
Playing an improvised conglomeration of hip hop, ambient, jazz and electronic styles the members call "experimental urban soundscapes," Beam got rolling in Pittsburgh in 2001. But the roots of the project go back a bit earlier. In the late '90s, Throckmorton and bassist Paul Thompson were touring in Maynard Ferguson's jazz band, "and we kinda got turned on to the jungle, drum-and-bass stuff," recalls Throckmorton. "We talked about, if we ever end up back in Pittsburgh or wherever else, we should try to put together a band doing this stuff live." Returning to Pittsburgh in 2000, the two soon found emcee Akil Esoon and DJ Supa C, and brought in Steve Landay to play the ambient, textural sounds they christened "space bass."
Beam kept a busy schedule for several years, documented on Inception, an album of cuts culled from two years of live recordings. "That's when we were hitting it the hardest," says Throckmorton. "Once the lineup started to rotate a little bit, we may have lost a little bit of our momentum." Bass players changed. Jobs, kids and life happened. The group scaled things back, and got involved in other projects.
But on Sat., Dec. 23, Beam's back, performing at Club Café with the original lineup for the first time in three years -- and with a new record, Chemistry.
Starting off with six more structured studio tracks, the disc then returns to the live cuts of Inception. In more ways than one. "When we made Inception, I had four CDs filled with my favorite stuff from 50 or so gigs," says Throckmorton. "I thought people who like the band, and liked the first record, would like to hear a little more of the old stuff." So a few more nuggets of live improvisation from the early years were recycled into the second half of the album.
As for the new studio tracks, "It still sounds like us, but it's a little more refined," he says. "The drumming's a little streamlined, or the bass lines might be more repetitive. Live, there's no rules, the music takes us wherever we want to go.
"But with this stuff, I had a clear-cut vision: I want this song to have this kind of vibe, and I was the one in the studio basically playing producer," he adds. "Most of the guys in the band haven't even heard the [final] studio stuff yet."
But Beam's heart still lies in the live improvisation that draws a diverse crowd of hip-hop fans, ravers, jazz heads, rockers and Berklee College of Music types. Looking around the audience at a Beam show, you have to wonder if they're on to something with this experimental urban soundscape thing. Just don't be fooled into thinking you've heard it before ... or can hear it again.
"It might sound like an actual piece of music," says Throckmorton. "Someone might come out to see us and hear Akil say some repetitive chorus-type phrase on a live improvisation, and come out and hear us again and ask, 'Can you play that tune again?'" He laughs. "And we're like, 'What tune?'"
Beam. 10:30 p.m. Sat., Dec. 23 (doors at 10 p.m.). Club Café, 56-58 S. 12th St., South Side. $10. 412-431-4950 or www.clubcafelive.com