Barrel Junction came to our attention as a suburban bar with an emphasis on craft beer and a pub-style menu liberally featuring the words "house" (as in house-smoked meats) and "hand" (as in hand-tossed pizzas). But with plenty of good gastropubs in the city, was this one really worth the trip up Route 8?
We looked at the menu online. Custom-blend burgers, check. Wings and fries, check. Pot stickers and edamame — intriguing! But it was the house-smoked meats that reeled us in.
No wonder the menu looked so good; we discovered that Barrel Junction is headed by chef/owner Ron DeLuca, formerly of Blue in the North Hills and the erstwhile Pangea in Shadyside, both excellent (though more upscale) establishments. Located in a corner of a mini-strip mall, tucked almost out of sight behind Mars National Bank, Barrel Junction was not easy to find, but the nearly full dining room demonstrated that it is already on plenty of people's maps. The interior — all slate-stained wood, chalkboard paint, brushed stainless steel and caged Edison bulbs — was rustic in a way that felt peculiarly modern: minimalist yet full of tone and texture.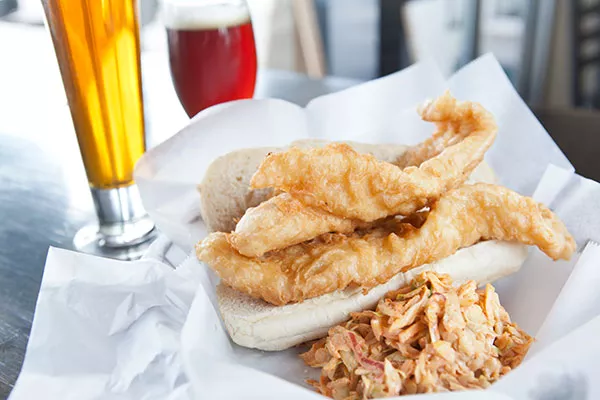 Photo by Heather Mull
Fish sandwich and spicy slaw
The small size of the combined bar and dining room translated to plenty of attention from our server, who didn't mind multiple stops to check in on us while we pondered drafts and starters. Cajun-fried catfish bites were an easy first choice, and even easier to polish off. Morsel-sized strips of moist, tender filet were lightly coated with an ultra-fine breading for an almost smooth, delicately crispy exterior. The Cajun spicing was distinct yet not too spicy; the real kick came from a house tartar sauce that combined heat with creamy cool and an addictive slaw that seemed to be tossed in the same heady mixture.
Nachos, available with chipotle chili or the kitchen's own smoked meat, were sized to share. Though sturdy enough to stand up to the freight of several toppings, the house-made tortilla chips were as exquisitely delicate, almost brittle, as fine pastry. We further appreciated that the nacho toppings were well distributed, including a pleasing, lacy application of sour cream from a squeeze bottle, instead of being heaped on the top. Pulled pork was lightly smoky, with the meat's natural sweetness coming forward. The porter barbecue sauce, used instead of salsa to complement the house-smoked meats, was too sweet for Angelique's taste, but Jason didn't mind it.
Speaking of sweetness, we were dubious about the sweet soy sauce that came with the edamame, which in our opinion really need no adornment but salt. But our first taste humbled us. As in so many cases, a little sweet to balance the salt was delicious. The attention to detail in our dishes was adding up to something very impressive.
Pizza is available in several varieties. With the traditional red, white or thick-crust pan pizzas, diners select their own toppings from a standard list, but there are also several specialty topping combinations. Our pepperoni pan pizza looked beautiful, the edges of the crust a deep golden-brown. But the center of the pie was more floppy than crisp, the thick dough didn't really add much other than chewiness, and, dare we say, there might actually have been too much cheese. It wasn't a bad pie, but lacked the careful balance of our other orders.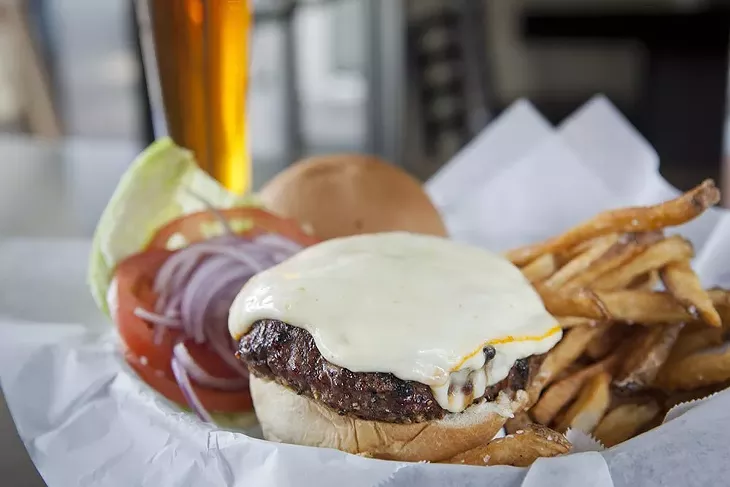 11 slides
The burger, on the other hand, was a stand-out. For one thing, it weighed in at a hefty 11 ounces, but an even bigger deal was its mighty flavor, a potent combination of short rib and chuck. Lots of toppings are available, but even plain, this burger revealed lots of beefiness, savory seasoning and ample juiciness. Fries alongside were a couple shades darker than golden, fluffy inside, and beautifully seasoned.
Our smoked-brisket sandwich came out on a long bun, griddled for crisp edges, and topped with muenster, pickles, shaved red onions and a bit of barbecue sauce. The meat was intensely, gorgeously smoky, tender and moist, and the supporting cast each played their roles well. This is as good a brisket sandwich as you'll find in the Pittsburgh area.
Aside from fries, three traditional barbecue sides are offered: baked beans, spicy slaw and sweet Carolina slaw. The beans, a combo of black and cannellini, were firm and a bit creamy, but the sauce was a clumsy combination of sugar and vinegar. The slaws, on the other hand, featured good, crispy cabbage in dressings that were light yet flavorful.
At Barrel Junction, a seasoned chef plays with the all-time favorites of casual American cuisine and shows just how good they can be.