Hippies droning and chanting about "shamanistic shaker spells and alpha beta grammar slides" probably isn't something you'd envision as part of Brooklyn's current underground rock scene. Nor, I'm sure, is it what Michael Gira, founder of Young God Records, thought he'd be into 25 years later, back when his band Swans was pounding white-hot sheets of industrial gloom into the heroin-riddled bedrock of the early '80s Lower East Side.
But some of the celestial majesty of latter-day Swans, circa White Light from the Mouth of Infinity, radiates from the new album by Gira's hirsute protegés in Akron/Family. The band's second full-length, Love Is Simple, came out on Young God last year. (Akron/Family has also participated in Gira's intense dirge-folk ensemble, Angels of Light.)
While it's full of the shimmering joy that should put WYEP-worshipping boomers fully in tune with memories of bongs and dashikis, Love Is Simple is anything but purely simple. From the glistening xylophones and Boredoms-like tribal percussion of "Lake Song/New Ceremonial Music for Moms" to the prog-meets-free-jazz vibe of "I've Got Some Friends," it's more likely to give children of the '60s an intense acid flashback than to serve as the Muzak for a shopping spree at Whole Foods.
Perhaps that's why Akron/Family gets lumped into the nebulous "freak folk" genre, whose top echelon also boasts Devendra Banhart, Joanna Newsom, Animal Collective and about two dozen bands from deep in the woods of Finland. And the label is justified: Guitarist Seth Olinsky never denied his interest in late-period Grateful Dead, nor his naïve pursuit of Phish. But the freak-folk classification still limits the potential of an album that could bring beardos and squares together like few have since John Lennon sang "Jai Guru Deva Om."
Indeed, while the other Akron/Family lads dabbled in Kabbalah and possibly Gnostic vibes, founder Ryan Vanderhoof quit the band last February to join a Buddhist community in Michigan. The three remaining members are augmented on this tour by damaged-Americana trio Megafaun, who have a recent release on Table of the Elements. Such a large ensemble should allow the audience to immerse itself in Akron/Family's trademark uplifting vocal harmonies, while recordings of crickets literally chirp in the background.
But when you're exposed to transcendent (if a bit gooey) lyrics like "The immortals gently awaken ... and brothers and sisters begin / To see truly through strata," it's possible that all kinds of visionary, astral portals could open. Including the portal mentioned in one of the new album's song titles -- a portal mysteriously named "Ed."
Akron/Family with Megafaun. 8 p.m. Fri., March 7. The Andy Warhol Museum, 117 Sandusky St., North Side. $12. All ages. 412-237-8300 or www.warhol.org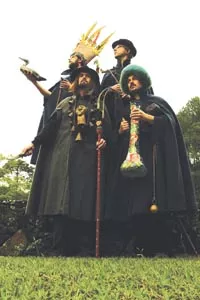 Akron/Family: The Gathering