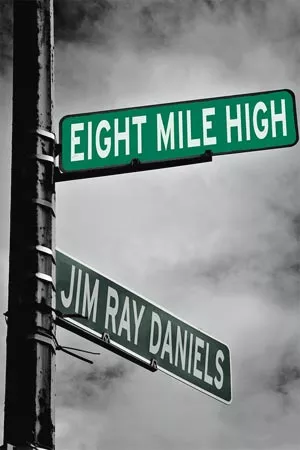 In Eight Mile High, Jim Ray Daniels covers familiar turf in surprising new ways. Like his earlier fiction, these 14 stories are set largely in working-class Detroit. But unlike 2007's Mr. Pleasant and 2011's Trigger Man, the new collection's pieces are sometimes linked, and often tread an experimental path.
For sure, this is Daniels territory: The prolific writer and poet, an English professor at Carnegie Mellon University, specializes in evoking Detroit's industrial fringe, where he grew up in the 1960s and 1970s. "The acrid stench from the colorless assortment of factories large and small stung in our noses, a daily tattoo that spelled home, and whenever we went somewhere that smelled otherwise, we stopped trusting whoever had taken us there," he writes in "Et Tu." The Ford plant, where fathers work and sons are bound, looms over all. And Eight Mile High (the title references the book's neighborhood high school) is suffused with Daniels' mordant, blue-collar humor: As the narrator in "Bend in the Road" notes, "our neighborhood was high — high on funerals and court appearances."
There's an exceptional intimacy here, too, even if many of these characters — parents, children, boyfriends, girlfriends, pals — are wary of getting too close to each other. Settings, like the Eight Miles High bar and The Clock diner, recur, and so do characters; two stories recount the same deadly house fire from different perspectives.
There are classically structured stories here. "Raccoon Heaven," about an ex-coke-dealer, his wife and their gone-wrong cabin up north, recalls T.C. Boyle's smart-ass narrators. "My Republican Love Affair," narrated by a college student from Detroit interning at a Nixon-era Washington, D.C. think tank, is a bittersweet — and very funny — romantic comedy.
Still, what's most memorable is Eight Mile High's experimentalism. The narrator of "Et Tu," for instance, revises a shaggy-dog story about his pimply teenage self in the very telling, as with adding apocryphal dialogue and immediately gainsaying it. "Pearl Diving" is more a portrait of a street than a traditional narrative. "13-Part Story With Mime," featuring deadpan comic wordplay, details a doomed collegiate romance in brief, strobe-lit scenes. Perhaps most challenging is "Target Practice," a bleak, multi-narrator story in which a convict offers different explanations of why he killed someone. That Daniels wields all this sophisticated technique while maintaining his deceptively conversational tone is all the more impressive.