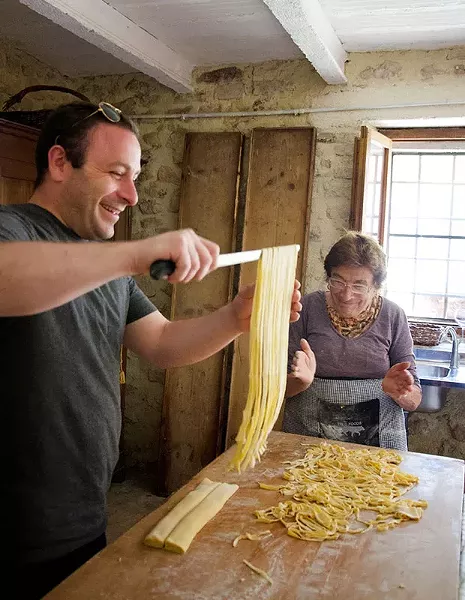 Photo courtesy of Aimee DiAndrea
Dave Anoia making pasta in Italy
We make our own fresh pasta at DiAnoia's Eatery because it gives us complete control over the taste and texture. Making fresh pasta also allows us to shape each dish the way we intend on serving it, so we can be more creative and precise with our end presentation. Currently, we make 16 fresh cuts of pasta daily! Why? Different sauces go better with different shapes. Take orecchiette — this cut pairs best with liquid-based sauces because its shape can hold up better than something thin like a tagliatelle.
Photo courtesy of Aimee DiAndrea
Tagliatelle Bolognese at DiAnoia's Eatery
During our honeymoon in Italy, we got to visit a small town outside of Assisi, in Umbria, to go truffle hunting. We ended up spending the whole day with the family of the truffle-hunter and actually had the opportunity to cook with them. While they were cooking, the grandmother recognized my interest in what she was doing and invited me to help her make and roll out the pasta. This recipe was inspired by what I learned that day with her.
Ingredients:
480 grams of Caputo 00 flour (00 refers to the texture on a scale of the fine [00] to rough [1])

4 large eggs

2 ounces water (add as needed for desired consistency)

Instructions
:
Make a volcano with the flour, and crack the eggs in center. With a fork, beat the eggs until they are scrambled. Mix together with the flour until the dough is formed. Add water as needed if the dough is too dry. Once the dough comes together, knead for 10 minutes. Cover and refrigerate for two hours. Pull out and roll out dough with a rolling pin, until it's 1/8-inch thick. Fold over three times, dusting with flour in between, then cut into ¼-inch-thick ribbons. In a large pot of salted boiling water, add the pasta, stir and let cook for three minutes, or until al dente. This tagliatelle is best served with a meat sauce, like a Bolognese. Serves four.