In November, Patti Smith won the National Book Award prize for nonfiction with Just Kids, her memoir centered on her early relationship with artist Robert Mapplethorpe. Those covering the news devised ways (graceful and otherwise) to say, "writer-but-that's-not-why-she's-famous." The New York Times described her as "The rock musician Patti Smith," while The Los Angeles Times opted for "Patti Smith, the legendary rocker with a celebrity star power not often seen at literary events."
Do such descriptions carry a note of professional insecurity, as career writers encounter a legendary musician who has also found visible success in their field? With Rolling Stone now reporting that Smith's writing a detective novel "inspired by her childhood love of Sherlock Holmes and Mickey Spillane," the issue of just what Patti Smith does should become even thornier.
The issue is likely to come up more often, as the ideal of musicians earning a living solely through recordings and performances slips into the past, replaced by multi-platform artists and entrepreneurs -- already standard in pop and hip hop. What is Bono these days, anyway?
Even before her landmark 1975 debut album, Horses, Smith's restless creativity had included acting, poetry, visual art and collaborations with Mapplethorpe and others. She's penned lyrics for Blue Oyster Cult, even worked as a rock journalist. The song "Pissing in a River," from 1976's Radio Ethiopia, could be heard as questioning these many artistic roles:
Should I pursue a path so twisted?
Should I crawl, defeated and gifted?
Should I go the length of a river?
Penning a tidy summation of Smith has long challenged her critics and curators; this was evident when The Andy Warhol Museum hosted her 2002 retrospective, Strange Messenger: The Art of Patti Smith.
"Although best known for her revolutionary contributions to the worlds of music and poetry," begins the museum's official press release, "Patti Smith is also an accomplished visual artist whose drawings have been exhibited in museums and galleries throughout the world." Translation: Artist-but-that's-not-why-she's-famous.
John Smith, the Warhol's then-exhibition curator and archivist, acknowledged this issue in terms of his primary subject: "Like Andy Warhol, Patti Smith isn't an artist who is easily categorized. She moves fluidly through the genres of music, visual art, and language," he wrote. "Her work and her career defy the traditional boundaries of both the art and music worlds. To understand Smith's work is to understand the organic quality of what she does."
To augment the exhibit, on Sept. 28, 2002, Smith gave a special performance at the Byham Theater with her band, combining words, visuals and music. I'd arrived in Pittsburgh from California just days earlier with my suitcases and guitars; my girlfriend met me at the Amtrak station, and told me she had found tickets for us. I can't think of many better ways to start out in a new city.
The Byham show proved the first of several memorable Smith performances I've seen in Pittsburgh. There was the rare sunny day at Three Rivers Arts Festival when my sister and I ended up leaning against Smith's vocal monitor for the duration of the show -- an awesome yet nearly frightening proximity to such an intense performer.
Then, in July 2007, she returned to play the Carnegie Library Music Hall, supporting Twelve, her album of cover songs. A few days before, Smith's publicist rang my desk at City Paper: Patti just got back from Europe, and can talk with you -- in 10 minutes.
A phone interview has its limits, even with more than 10 minutes to prepare. Yet talking with Smith was an enjoyable, engaging conversation, ranging over a variety of topics -- including the work-in-progress that would become Just Kids [see sidebar]. It also went well over the time allotted by her publicist.
"I'm so jet-lagged, I'm incapable of doing anything else," Smith joked, "so we might as well talk!"
Of course, Smith is hardly the only accomplished musician with a literary side. Her 1970s CBGB milieu alone yielded the likes of David Byrne, Jim Carroll, Tom Verlaine and Richard Hell. One can easily find precursors, like the surreal writings of composer Erik Satie, or more recent examples like Henry Rollins' prodigious autobiographical output; Nick Cave's novels and screenplays; Jay-Z's new memoir -- even the foodie columns of Alex Kapranos, of Franz Ferdinand.
Here in Pittsburgh, too, plenty of people known for music are writers, whether their words appear in novels (Gathering Field founder Bill Deasy), chapbooks (indie rocker Karl Hendricks), or blogs (Raymond Morin of Pairdown). And vice versa. Others, like tENTATIVELY, a cONVENIENCE, are inconveniently difficult to describe.
The bio of Smith on the dust jacket of Just Kids, published last year by HarperCollins, foregrounds her writing, and takes pains to mention her previous books of poetry and the fact that she has been exhibiting visual art since the early 1970s. "Patti Smith is a writer, performer, and visual artist," it begins, who "gained recognition in the 1970s for her revolutionary mergence of poetry and rock."
But one needn't survey her work in every medium to, as the Warhol curator suggested, "understand the organic quality of what she does." A single album like Horses or Easter suggests the "sea of possibility" she inhabits: weird reggae about a dead girl in California; backbeat grooves against Rimbaud-inspired poetry; the raw materials of early rock, like "Gloria," refitted to a new era and vision; a hit co-written with Bruce Springsteen alongside the well-intentioned yet politically incorrect "Rock N Roll Nigger."
When a person demonstrates mastery in one area, as Smith did in her early albums, it's natural to expect their other pursuits to be amateur hobbies -- even to wish it. We're often willing to acknowledge excellence, so long as there are visible tradeoffs that make us more comfortable with our own achievements (or lack thereof). Anything more just seems unfair.
I prefer to think of Smith -- and others whose impulses carry them across boundaries of genre and medium -- in terms of her 1978 spoken-word piece "Babelogue": "In heart I'm an American artist, and I have no guilt," she says. "I seek pleasure. I seek the nerves under your skin."
And that's something far too big for any album, however seminal, or any award-winning book.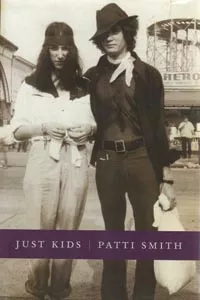 Books and music: A still from Steven Sebring's 2008 documentary, Patti Smith: Dream of Life