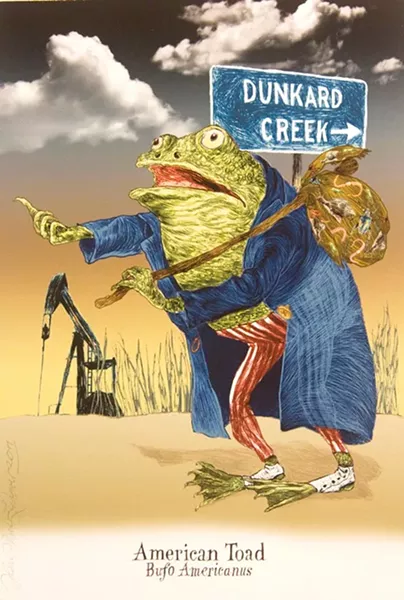 Up the creek: Ilene Winn-Lederer's "American toad, Anaxyrus americanus"
Artists often feel compelled to respond to environmental disasters through some combination of photographic documentation, informational displays and elegies for what's been lost. At Chatham University, Reflections: Homage to Dunkard Creek commemorates the loss of thousands of animals in West Virginia in September 2009. Given that loss is essentially unphotographable, this group show suitably concentrates on a celebration of wildlife diversity, with information-based warnings and laments.
Organized by Ann Payne, a West Virginia artist and botanical-art instructor at Phipps Conservatory, this exhibit is a heartfelt response to the ecological disaster at Dunkard Creek. The 43-mile-long stream feeds into the Monongahela River, which supplies drinking water to 850,000 people and was recently listed as one of the country's 10 most endangered rivers. As clearly explained on text panels, map and a thorough catalog, in September 2009 all of Dunkard Creek's gilled wildlife died due to a combination of mine waste that had been accumulating since the 1960s, low water levels exacerbated by mining-industry withdrawals, and a toxic bloom of alien algae.
The exhibit consists of one small work each by about 90 artists, most from West Virginia and Pittsburgh. Each artist chose a species to memorialize — though all of the species represented live on elsewhere — and most created a fairly straightforward depiction in a painting or drawing. The many fine works include Constance Merriman's, and a three-dimensional piece by JoAnna Commandaros.
There are plenty of clever twists, too, such as Ilene Winn-Lederer's illustration of a toad hitchhiking out of the Dunkard Creek watershed now that the extraction industry has arrived, or Wendy Osher's packing materials collaged to create three-dimensional images of mussels. Angelo Ciotti takes a more direct approach by using mining residue and coal dust to create an image of a fish and stream that looks poisoned, while Aaron Williams' visually arresting digital print updates the traditional needlework sampler. Rob Haining's mudpuppy of interlocking pieces literally jumps off the surface, while Joe Lupo's "Sunfish X" fills an outline of the fish with an image of the industry that threatens it.
This exhibit memorializes what's been lost and asks us to protect what remains. It not only provokes us to question how natural resources are managed, but to do something about it — particularly with the new threat of fracking's insatiable thirst for water.