After starting his career in the late 1980s with The Afghan Whigs, Greg Dulli now plays in The Twilight Singers and in The Gutter Twins, the latter alongside Mark Lanegan (of The Screaming Trees). He's currently on a solo tour backed by Gutter Twins contributor Dave Rosser and strings player Rick Nelson. At press time, Dulli's Oct. 22 appearance at Brillobox is sold out. Early in the tour, he spoke with City Paper by phone from his Nashville hotel room.
A lot of your material, especially your Twilight Singers stuff, is lushly orchestrated, so you had to strip it down for this tour. Was that a chore or a relief?
I'd say it was a relief. The first time I played a barebones set, I did a couple benefit shows in Seattle. I ended up recording them both and it sounded really good. I thought, 'Wow, it's kind of nice to do it this way.' If it's a good song, you should be able to play it however. You get to try out new songs and play songs you haven't played for a long time, and learn how to do them in a different way without all the bells and whistles.
Did that play a role in you wanting to do a tour like this?
Yeah -- I wanted to do that. The honest reason I booked this tour is that I couldn't stop fooling around with [the forthcoming] Twilight Singers album. I need to stop, so the best way for me to do it was to paint myself into a corner. Give myself a deadline, book a mastering date, book a tour so I couldn't cancel the mastering date. So it was actually done to curb my OCD.
You tend to bring in different collaborators, have a couple bands going at once and sometimes play some cover songs. Does all that cross-pollination help your creative work?
I like to see how other people write songs; it's fascinating. Sitting down and working out songs together -- Lanegan and Manuel Agnelli, an Italian singer I work with, those are the only two guys I sat down [with] and we worked on words together, we worked on melodies together. But I love seeing how different people do their thing.
Greg Dulli with Craig Wedren 10 p.m. Fri., Oct. 22 (doors at 9:30 p.m.). Brillobox, 4104 Penn Ave., Bloomfield. Sold out. 412-621-4900 or brillobox.net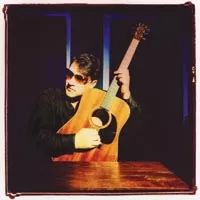 Twilight gutter whig: Greg Dulli