Occupy Pittsburgh: Ongoing Coverage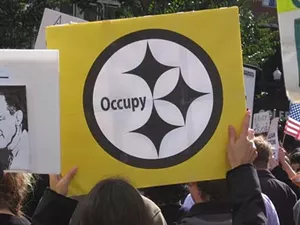 This is our online clearinghouse for coverage of the Occupy Pittsburgh demonstration taking place on Mellon Green, Downtown. For instant updates concerning the occupation, follow us on Twitter.
If you have tips or suggestions for further coverage e-mail us or call editor Chris Potter at 412-316-3342, ext. 182.
Otherwise, follow the links below to see earlier stories about the ongoing demonstration.
The Occupation Continues: Ongoing coverage from Mellon Green -- and throughout the city
Occupation Day: Coverage of the Oct. 15 march and occupation
Pre-occupation: Coverage of the build-up to Oct. 15