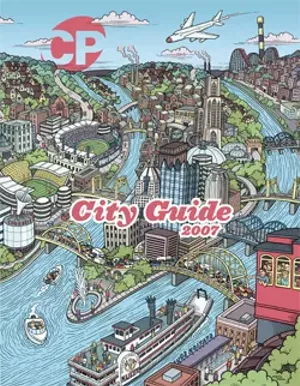 A couple of months back, I was drinking with some friends out on the porch when we heard my new downstairs neighbor playing the violin. We invited her to join us, and it turned out she'd been playing in a Hank Williams cover band with a guy I know. Hadn't seen him much lately, on account of he'd quit his job with the city, where his responsibilities included inserting references to Nietzsche and Heidegger in government audits. He'd given all that up to finish his sequel to The Brothers Karamazov ... but an hour later, he was over on the porch as well, playing old-school country into the smaller hours of the night.
In many ways, this is a typical Pittsburgh story: Around here, you can barely cross your doorstep without running into someone who knows someone you know. Six degrees of separation is for New Yorkers; Pittsburghers usually get by on two. And it's also the kind of city where a guy in the city controller's office -- or over on the next barstool -- may have a life story more involved than anything Fyodor D. ever dreamed up.
Pittsburgh's close-knit fabric is one of the things people love about it. But it has drawbacks too: Newcomers can feel shut out sometimes, and longtime Pittsburghers sometimes take their city for granted. We're so used to seeing it that we sometimes forget to look.
With any luck, this City Guide -- City Paper's first -- will help solve both of those problems. It will help make visitors and newcomers feel a little more at home, and maybe make longtime residents feel like they've just arrived.
The following links will take you to directories of Pittsburgh bars, Pittsburgh restaurants, Pittsburgh art galleries and other Pittsburgh cultural institutions. You'll also find profiles of a handful of Pittsburgh personalities who contribute to the local fabric, and profiles of some local neighborhoods -- in both the suburbs and the city limits. (There are many neighborhoods we could have touted, but these literally offer something for everyone: plenty of options for those who want distinctive housing, and plenty of escapes for those trying to get out of the house.) Finally, we've provided a resource guide to help connect you with services and groups all over town.
The hard part about a guide like this, of course, is knowing there's stuff you missed. There are neighborhoods we didn't have space to describe, secret bars we don't know about (or want to keep secret), art galleries that are opening even as I write this.
The consolation, I guess, is that we'll be doing another one of these a year from now ... and hopefully it will be even larger. Until then, hold onto this guide, and this word of advice: If you want to discover Pittsburgh, just take a step out your front door -- and listen carefully for an unfamiliar music.
-- Chris Potter