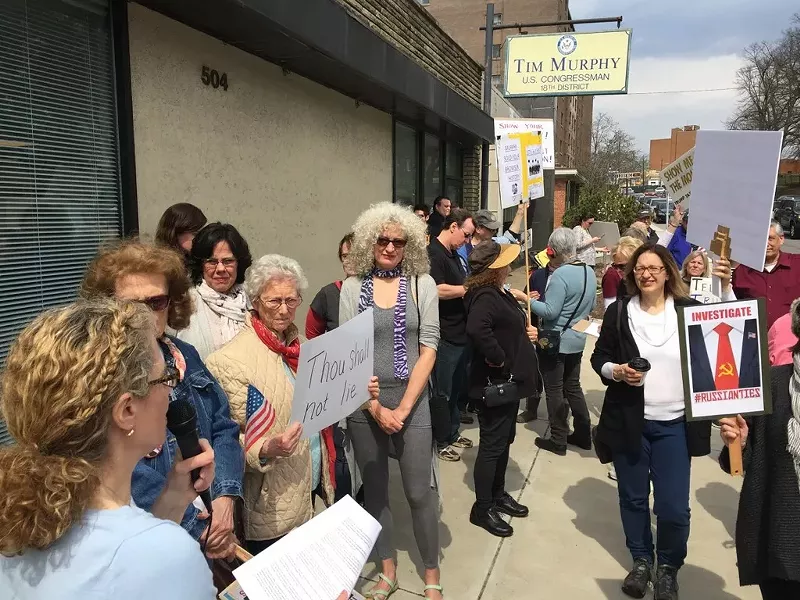 Photo courtesy of Mykie Reidy
Consituents rally in front of U.S. Rep. Tim Murphy's Mount Lebanon office.
On April 3 around noon, more than two dozen constituents rallied outside U.S. Congressman Tim Murphy's office in Mount Lebanon, calling for Murphy to support an independent investigation into President Donald Trump and his possible ties to Russia. The group calls themselves "Mondays With Murphy," and they have been requesting meetings with
Murphy
(R-Upper St. Clair) and demonstrating in front of his Mount Lebanon and Greensburg offices for weeks. (Murphy even went as far as cancelling an event at Duquesne University to
avoid answering questions
from a small group of constituents in February.)
On March 20, FBI Director James Comey announced the bureau is investigating possible coordination between the Trump campaign and Russia. The House Intelligence Committee, chaired by Rep. Devin Nunes (R-California), is also investigating the president, but Nunes has been criticized for allegedly meeting with White House officials on March 21, without notifying his committee. (The Senate Intelligence Committee is also investigating.)
Because of the confusion around Nunes' actions, many — both Democrats and Republicans — have been calling for an independent investigation into the Russian matter, not just one carried out by members of Congress. Mykie Reidy, of Mondays With Murphy, agrees.
"It's clear that Devin Nunes has conflicting loyalties and cannot conduct a thorough and impartial investigation into the Trump campaign's entanglements with Russia," said Reidy in a press release. "A number of Republicans in Congress have publicly acknowledged that fact; we would like Congressman Murphy to be among them."
Carly Atchison, press secretary for Murphy, didn't return request for comment for this story.
Murphy has been relatively quiet on the Trump-Russia front. In a February story in the
Pittsburgh Post-Gazette
about Trump's former National Security Advisor Michael Flynn, who resigned after it was revealed that he held undisclosed meetings with Russian officials during Trump's campaign, Murphy's office
said in a statement
: "Congressman Murphy believes General Flynn made the right decision to resign."
Murphy hasn't made any other public statement since about Trump and Russia. That is not good enough for Reidy and other Mondays With Murphy participants. They are circulating a petition asking Murphy to make a public statement in support of an independent investigation. The group is also still waiting to get a face-to-face meeting with Murphy.
Reidy says that two Murphy staffers came out to address the group during the April 3 rally, but none of them promised the group that they could speak with their representative.