People are always asking me if I've seen Everclear perform with the Black Eyed Peas and I always tell them "yes, I have."
It was 1999, I was twelve. My parents drove my brother and me to the Electric Factory in Philadelphia to see Everclear, who were touring for their hit album
So Much For The Afterglow
. Seeing the baggy jeans, dyed hair and chain wallets of the older kids smoking cigarettes in the parking lot, I remarked to my family "these are my people!" They broke into unanimous laughter but I ignored their teasing. I knew the deal: they were squares and I was hardcore.
Once inside the venue, my parents stationed up on the bar side of the floor and my brother and I posted up adjacently on the concert side (possibly the most going-to-a-show-with-your-parents move of all time). I bought an Everclear shirt that said "Punk as fuck" and featured a girl licking a phallic lollipop, which my dad then made me return (in front of all my people!). It was a rough start.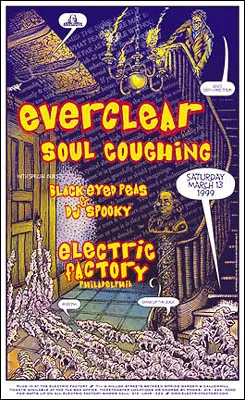 Joining Everlcear on the bill were the Black Eyed Peas, Soul Coughing and DJ Spooky. I have no idea how this lineup came together. At the time, the Peas were closer to a straight hip-hop act, Soul Coughing was enjoying modest success with the single "Circles" and DJ Spooky was, according to a young colleague of my dad's, "really hot in New York." The acts meshed like peanut butter and tuna fish.
I remember very little of the opening acts' performances, but once Everclear came out, shit really popped off. Everclear may not seem particularly hardcore, but things got pretty intense when they came out. All the Alexakis-heads started moving up to the front, and Sam and my little bodies started getting crushed against the barrier. My parents were justifiably concerned and tried to get us over to the bar side. Two baggy jeans-ed chain wallet-having dudes saw the whole scene, and lifted the two of us over into our parents' arms, into safety. Punk as fuck.
While the night was replete with embarrassments and forgettable moments, there is one thing that had a profound effect on my life that night and it was not Will.I.Am. It was the "hot in New York" DJ Spooky and his beautiful, cerebral monster of an album
Songs of a Dead Dreame
r.
Dreamer
came out in 1996. It's not alone in the realm of trippy, ambient, near-formless trip-hop from the era, but it's a far cry from stuff like DJ Shadow's
Entroducing…
or
Preemptive Strike
. This was the first instrumental album that I connected with and I connected with it hard. It's a somewhat challenging album overall, it can pretty abrasive at times, but the fourth track, "Galactic Funk," is a good way to make an entry. It's about as close to a single as the thing has, built on dancey bassline and the most straightforward drums the album has to offer.
Spooky (real name Paul Dennis Miller, full stage name DJ Spooky, That Subliminal Kid) has released ten albums since
Dreamer
(and written several books). It's tough to describe his discography overall (jazz, standard ambient, classical, ballet) but I think the versatility that's defined his career is more than evident in the sixteen songs on
Dreamer
. A catchy, danceable track like "Galactic Funk" transitions effortlessly into the ominous, seemingly atonal "Hologrammic Dub" to a minimalist interlude called "Dance of the Morlocks." Every song is different, but they all feel like their happening inside one head, ostensibly a dead person dreaming.
Beside all the things that make this album beautiful and clever and unique,
Dreamer
is mesmerizing. Long before I started sweeping to music and writing about it, I listened to this album as a way to find focus, to do homework or help me sleep. It's been a big part of my life ever since. I could write thousands of words on it and not get any closer to why I love it, so I'm just going to recommend it highly if you like reverb, space and hip hop. The song "Nihilismus Dub" is one of the best songs I've ever heard. I hope you agree.
Best if you work in
: space mechanics, space crime forensics investigator, space