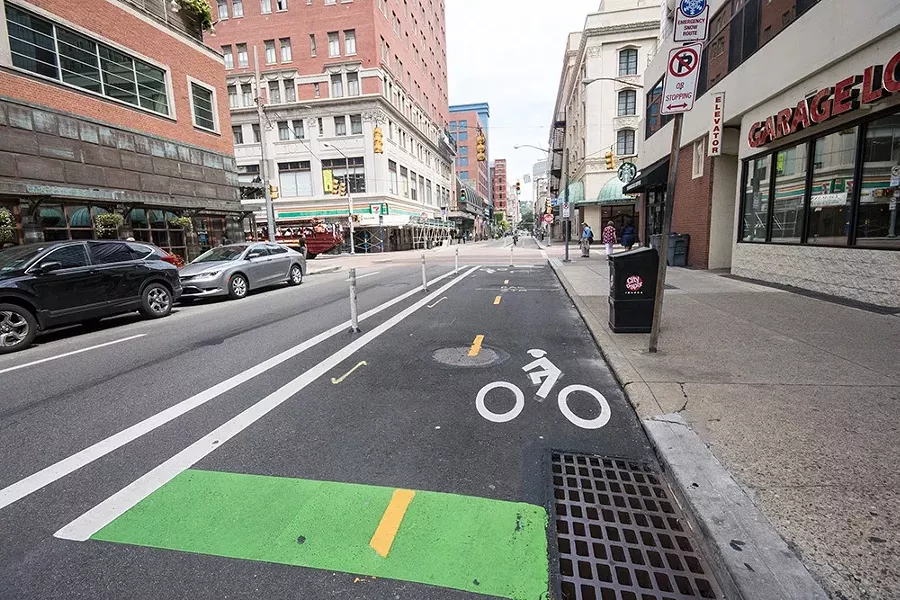 CP photo by Jake Mysliwczyk
A protected bike-lane cycletrack on Penn Avenue, Downtown
The protected-bike-lane train keeps on rolling through Pittsburgh. Last month,
City Paper
reported on Oakland receiving Pittsburgh's first counter-flow, protected bike lane and other big
bike-infrastructure
changes coming to the student-heavy neighborhood.
Now, the North Side is the benefactor of improved bike infrastructure. Pittsburgh Mayor Bill Peduto's office announced on Sept. 12, the soon-to-come installation of a cycletrack, or two-way protected bike lane, coming to Allegheny Circle, called Commons on road signs. Currently, the four-lane, one-way road loops around the former Allegheny Center, now called Nova Place. Peduto said in a press release that the road needs to be redesigned to create a "multimodal, pedestrian-friendly urban street."
"The failed design of Allegheny Circle as a four-lane, high-speed ring road has needed improvements like this for decades," said Peduto in the press release. "This redesign will further enhance the ongoing transformation of Allegheny Center into a hub for 21st-century infrastructure and development in the North Side."
Weather permitting, construction should begin this week on the cycletrack. The
protected lane
will take the spaces of the interior lane of Allegheny Circle, and the public parking spaces will be shifted to the outside lanes. The 1-mile protected bike lane is part of Phase One of a larger redesign of Allegheny Circle, which will eventually be converted from one-way road into a two-way road. Construction of the cycletrack will include painting, installation of flexible delineators (to separate bike traffic from car traffic), parking signage and signal timing improvements. Peduto's office says work is scheduled to be completed by Sept. 22. No permanent closures are set to take place.
And unlike some other bike-infrastructure projects in the city, like the scrapped bike lane on Fort Pitt Boulevard, the Allegheny Circle lane has some support from property owners, like Faros Properties, which is redeveloping and upgrading Nova Place.
"These improvements will be truly transformative for the entire community on the [North Side]," said Jeremy Leventhal of Faros Properties in a press release. "Allegheny Center has long been isolated by a four-lane highway. We're thrilled that the community and city have worked to reconnect the streets for pedestrians and bikers with thoughtful and collaborative urban planning."
Image courtesy of Google Maps
A protected bike lane will circle all of Allegheny Center, a.k.a. Nova Place
Peduto spokesperson Katie O'Malley says the city has already reached out to the St. Peter Parish church on Ridge Avenue about the changes in parking, so its Sunday congregation is aware of the new rules. Since 2016, the Buhl Foundation has led public meetings and other efforts to inform North Side residents about the potential benefits from this project. O'Malley also notes that project will include series of future
public meetings
with private and community stakeholders over the next eight months, with community engagement and public feedback accepted. Meeting dates and times have not been set.
This protected bike lane will also connect to existing bike infrastructure on Federal Street, Ridge Avenue and East Ohio Street, which will help close the
gap of bike routes
in the North Side. The city's press release says the "goal of the reconstruction project is to transform the highway-like roadway to a more appropriate neighborhood street that reconnects the community and its schools, churches, entertainment facilities and recreational assets, including the city's bicycle network."
This part of the North Side was at one time a vibrant residential neighborhood, with a large business district and blocks of row houses. But in the 1960s, much of the neighborhood was demolished and redesigned in an ill-fated attempt of "urban renewal," which created the car-friendly road design that is still present today.
The total cost of this initial phase of the road redesign is $80,000, which will come from Pittsburgh's capital budget. Phase Two of the project, which include a larger redesign of the entire road will be funded by a federal SMART transportation grant.
__