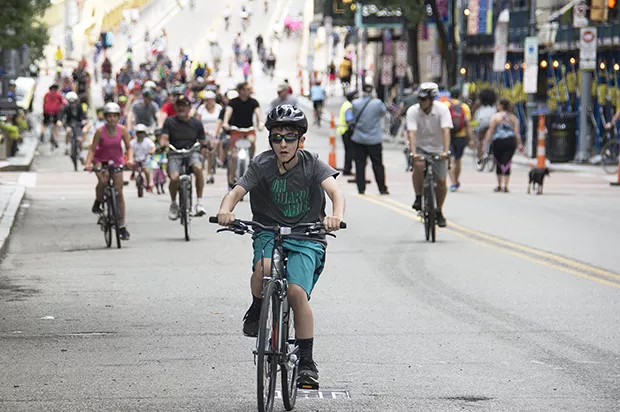 CP photos by Jordan Miller
Cyclists cross the Roberto Clemente Bridge during OpenStreetsPGH on Sun., June 25.
OpenStreetsPGH returned to Downtown over the weekend for its City of Bridges tour, closing down three miles of city streets to vehicular traffic. The
Bike Pittsburgh
event started in Market Square and took cyclists and pedestrians through the North Side to the West End, across both the Roberto Clemente and the West End bridges.
In addition to opening up the streets to bikes, skates and yes, even Segways, the event also offered free fitness classes, arts activities and more along the way. Our photo intern Jordan Miller was there to capture highlights from the Downtown leg of the route.
OpenStreetsPGH
is held three times over the summer. If you missed this one, you've still got one more chance: On Sun., July 30, the event returns one more time this summer for the Doughboy to Downtown Route.