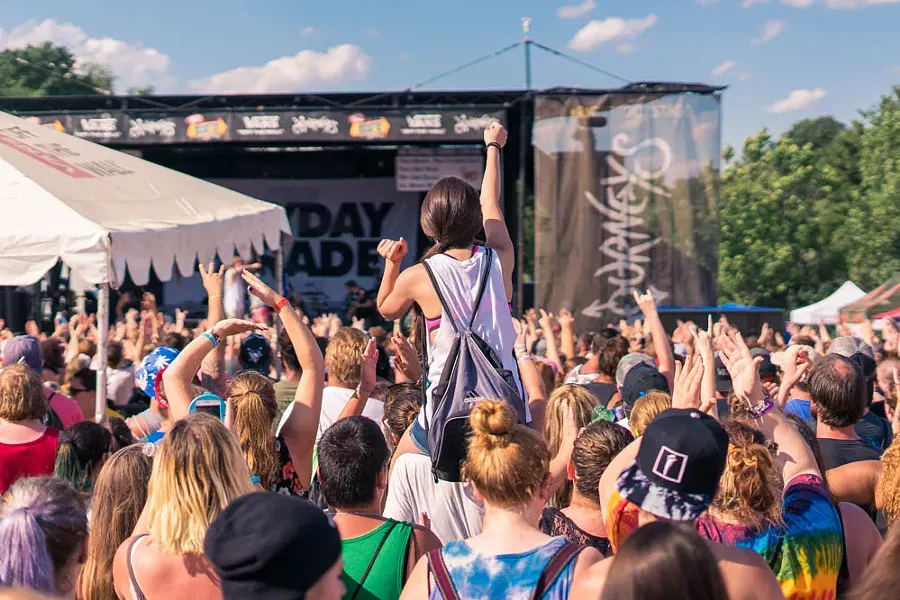 Photo by Aaron Warnick
Mayday Parade perform July 15 at First Niagara Pavillion.
The one, the only Vans Warped Tour made its annual stop in Pittsburgh (really Burgettstown) Friday, July 15.
CP
got to sit down and talk to members of ska veterans Less Than Jake and the chart-topping pop-punk unit Real Friends.
Buddy Schaub, trombone, Less Than Jake

I saw the Make Warped Tour Great Again video you guys put together and it's really funny. How did you come up with that and are you as a band against Donald Trump?
It's not actually about any political candidates. What we're doing is, instead of being on the Warped Tour, we're on the campaign trail to Make Warped Tour Great Again. Since it's an election year, we thought it would be funny to have this whole spread. ... If you wait until the show, you'll see [frontman Chris DeMakes'] presidential look ... It has nothing to do with Donald Trump.
Less Than Jake played a show at Duquesne University, my alma mater, in 2012. Do you remember that show or anything about it?
Photo by Aaron Warnick
Joe Taylor of Knuckle Puck performs July 15 at First Niagara Pavilion.
I'm trying to remember what happened.
From what I heard, there was a clash between security and kids moshing.
Is that the one with the big cross? … Part of that is because we got the Prince song [that starts out with,] "Dearly beloved we are gathered…" and we came down to that. The first song started and the security guards all came in and were all like, "What's going on?" and we were like, "Whoa, whoa, we were supposed to be able to do some [wild] stuff." So there was a little bit of an altercation. We've had way worse things than that. It was a little bit of a straightening-out of what was allowed and what was not. Everyone was cool. It was fine. It sorted itself out. Whatever it became in your hometown, I don't know. It's legend now. Duquesne? Do can't.

I didn't realize you were just in Pittsburgh, doing the full-album shows.
We re-released
Hello Rockview
and
Losing Streak
and we did a little tour to play both those records. We would do two nights in each city, and Pittsburgh actually got added because we were doing them on the weekend and in between we had this time where we were like, "Do we go home or fit something in and drive to New York?" We decided to add Pittsburgh in the middle and play both records in one night, which we did, but by the end of the second record we realized it was probably a disaster. I had a few too many vodka drinks. But we made it through and had to get into the van and drive like six hours to New York. It was a little disturbing. ...
But it's fun to do those tours like that, where we just do two weeks here and there, or between two places where we get a rental van and drive around, because it's reminiscent of when we used to be in a van. It's kind of fun to get on the road and do it that way.
Photo by Aaron Warnick
Deryck Whibley of Sum 41 performs July 15 at First Niagara Pavilion.
Kyle Fasel, bass/ founding member of Real Friends
Photo by Aaron Warnick
Kyle Fasel (center) and Dan Lambton (right) of Real Friends perform July 15 at First Niagara Pavilion.
I remember listening to the 2012 EP Real Friends put out, and now we're two albums after that, with both charting around 50 on Billboard. What has this whirlwind of the last two years been like for you?
It's still crazy. It's tough to get used to something like that. When you're on tour, it's really easy to get caught up in everything ... But it's when you have time off, you really appreciate it. When I'm home and have like two months off and I wake up in the morning and get coffee and I kind of think to myself, "I get to play in a band. That's my job. It's weird." [
Laughs.
] It's a good thing, but also to reflect on being on Billboard in the top 50 albums and all that, it's all surreal. We never expected to do anything with the band. ... [Y]ou mentioned an EP we put out,
Everyone Who Dragged You Here
. When we wrote those songs, we were just like, "Oh, this is fun." We weren't like, "Hey, let's write these songs so we can get on a tour or quit our jobs or do anything," we were just like, "These songs are cool," and that was it. It's kind of weird, you know. Because some people are put in positions where they are like, "OK, we're gonna get signed and gonna do this," and I've been in bands like that and it never works. When I was in a band where it was just like, "This is fun," then it worked.
One of the lyrics in the song "Home For Fall" says "we could listen to American football / or talk about high school / just like we did the years before." I find that so honest and open and it seems like you're not trying to hide behind phrasing or metaphor.
I think sometimes with bands, there's right or wrong answer with art,
but to me there is a point where you don't want to try too hard. I think when people really enjoy music and want to connect with it, maybe they're not feeling that great. Maybe they're sad or mad, or whatever it might be. When you're sad or mad, you don't go and look up in a thesaurus a different word for "this." So I try to keep my writing to that as well. Like very, "Hey, if I feel this way, I'm gonna say this. I'm not gonna think too much about it," and I think that's what keeps it relatable.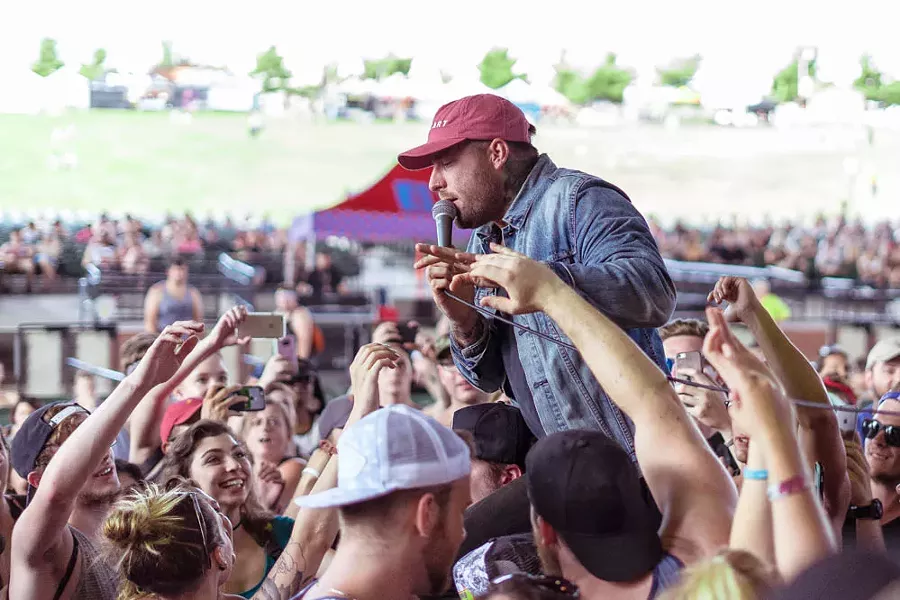 Photo by Aaron Warnick
Bradley Walden of Emarosa performs July 15 at First Niagara Pavilion.