We slog through the twitter streams of the 2016 Presidential candidates and give you a weekly round-up of the more entertaining ones, every Friday.
Three more candidates dropped out of the race this week:
Joe Biden
, who was never really in, and
Lincoln Chafee
, whose tweets about Kashmir, East Africa and #getgrounded we will miss.
Also, out but maybe in, is
Jim Webb
, who slipped into a no-man's-land between Democrat and Republican, running and not running. No wonder he's tweeting in third person.
The most plaintive
Jeb!
sign ever:
And the other hand, Bush might still be a winner.

Sanders
got some support from the past, present and future all at once.
This week's most haiku-like tweet comes from the normally bellicose
Trump
. (Though, in classic Trump fashion, he blames an underling.)
Another week, another shot of
Rand Paul
shooting things.
Lindsey Graham
tweets some Halloween costume ideas.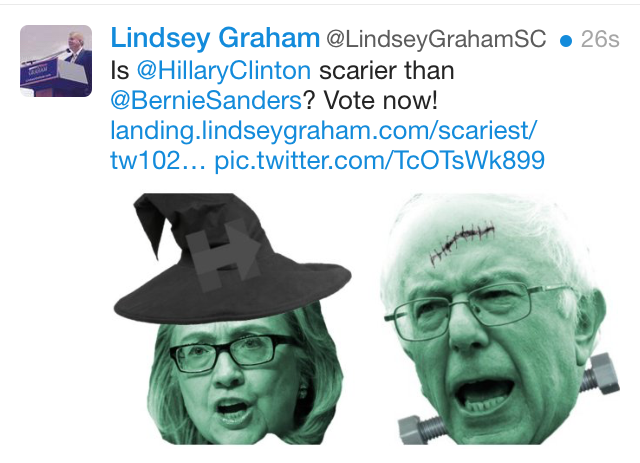 When in doubt (or running in last place), put a cute dog on the team. (For the record, no candidate has tweeted out a cat photo, even though Cats. Rule. The. Internet.)
Or, a photo of you with that dreamy new Canadian guy!